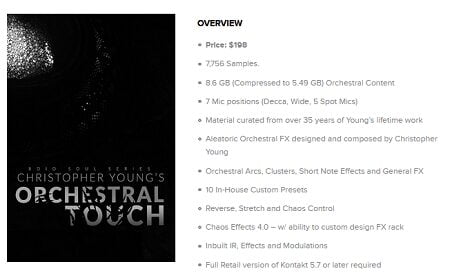 8dio – Soul Series: Christopher Young – Orchestral Touch (KONTAKT) | 5.52 GB
Endless Sound Design – Christopher Young's Libraries offer endless sound design options. Start with over 16,000 stunningly beautiful samples.
Then add our new IR engine that lets you turn any sample into impulse convolutions. Add features like instant overlay, reversal, time stretch and offset functions. Add the new advanced Chaos 4.0 engine, which offers you the ability to create your own FX chain racks. Add an extended modulation matrix with 4-part FX control. Add chaos to it all. Do it your way.
IR Engine – The new IR (Impulse Response Engine) offers you the ability to take any sample and convert it to an impulse response. Just play any sample on your controller and hit "Make IR" – and the sample is now superimposed like a convolution reverb on other samples. Turn your piano into a reverb for your strings. Take a lonely female voice and layer it over a somber slide flute ensemble. Make the ensemble ghostly, like a shadow in the back and a lone bell in the distance. The IR engine lets you instantly completely change the soundscape of everything you play.
4-part modulation engine and new Chaos FX 4.0 – Christopher Young's libraries also contain our new 4-part modulation engine for extreme sample and effects work. Each of the 4 mod modules contains its own X / Y matrix grid, and you can assign an FX parameter to both X / Y values. In addition, powerful features like reverse and stacking are just a click away. The stack allows multiple articulations to be played simultaneously. Very useful for synthesizer presets. In addition, we have also added our new FX engine Chaos 4.0, which allows you to create your own FX racks and signal chains. Everything is easy to use.
Main functions in the foreground – We have placed the most important functions on the front of the instrument so you can easily access them at any time. One click to flip everything. One click to drag the sample across the keyboard. You can also go further with modulation options like Low Frequency, Tone and Formant Machine, Advanced Gate System for synchronized arpeggios with the host. But let's leave these amazing features aside. The real magic of the collection is in samples. Access the deep and beautiful sonic mind of Christopher Young and take any of over 16,000 handpicked samples and make them your own. Welcome to the 8Dio Soul series and the world of Christopher Young!
Microphone Positions – Soul Series: Christopher Young – Orchestral Touch has 7 microphone positions including Decca, Wide and 5 separate point microphones.
Homepage:
https://8dio.com/instrument/christopher-young-orchestral/