Ableton Live, Beyond Music Production: The Masterclass by The School Of Sound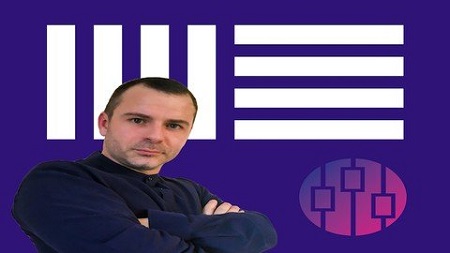 Ableton Live, Beyond Music Production: The Masterclass
MP4 | Video: h264, 1280×720 | Audio: AAC, 44.1 KHz
Language: English | Size: 2.59 GB | Duration: 2h 37m
Description
Ableton Live, Beyond Music Production: The Masterclass
Have you ever wondered how your favourite band/DJ or live performer puts on such amazing shows? How many times have you seen a live performer or DJ use the same tired setup at every event you go to?
Well this course will bring you on a journey to enlighten you to some of the most cutting edge technologies music has to offer and how to integrate them all into one cohesive unit. Whether you're into music, visuals or lighting, you can learn to automate and perform each to create stunning audio visual masterpieces to take you from a bedroom performer to the club and stage of your choice!
This class is for anyone who:
Makes or performs music
DJ's
Works in the field of audio engineering, lighting or projection
Works in the field of Audio Visual Production
And who wants to learn:
The Essentials:
How to network a variety of applications to produce synchronised outcomes in audio
How to network across multiple machines to synchronise those apps
How to create your own templates in TouchOSC to control said applications wired or wirelessly
How each application is interconnected
Audio:
What audio protocols are and how they operate
MIDI and MIDI Mapping
Audio routing
Lighting:
How lighting can be automated in Ableton Live
What lighting protocols are and how they operate
MIDI and MIDI Mapping
Visuals:
How Resolume Arena works
How to blend together multiple projectors
How to use visuals on multiple screens
Synchronisation:
What sync protocols are and how they operate
MIDI and MIDI Mapping
Audio routing and synchronisation
In this class we start with the very basics of Ableton and applications like RemixVideo and DMxis work all the way up to producing synchronised lighting shows and effects. I walk you through every step of the process, and explain my logic behind every decision I make. I'll even walk you through a complete demonstration from beginning to end.
The goal of this class is for you to learn how to create stunning lighting effects for use in the home, venue, club or stage.
DAWs:
In this class I'll be using Ableton Live and I've gone to great lengths to make sure this class is useful to everyone, no matter what your experience.
Setting:
I'm best known for working with electronic music and corporate audio visual events, but I've designed this course to be useful to anyone who has interest in the topics discussed.
Topics Covered:
Ableton Live: A Quick Overview
Traktor Pro
RemixLive
RemixVideo
Launchpad
Loopback
Resolume Arena
Studiomux
TouchOSC
Audio Networking
Image Blending
DMX: What Is It?
DMX Addressing
DMXis
MIDI
MIDI Mapping
The IAC Driver
Bonjour on the Mac OS System
The IAC Driver
The Audio MIDI Setup Tool
And much, much more!
Homepage
 https://www.udemy.com/course/audio-visuals-lighting-the-live-performance-masterclass/