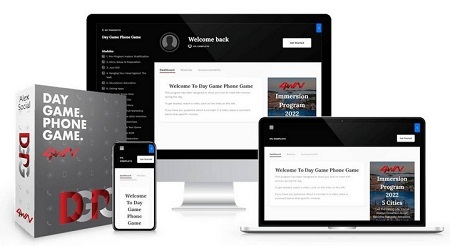 Alex Social – Day Game Phone Game (DGPG) | 56.71 GB
Alex teaches true natural game. True change that improves all aspects of your life. Thanks Alex for all the things you do and the great products you come out with. I'm excited to check this one out!
Alex is probably the greatest social life instructor of today. I have read and watched a lot of other PUA material, but it wasn't until I came across his old RSD YouTube videoas then everything really started to click with me.
After watching pretty much all his online YouTube videos, I knew I had to take a bootcamp with him. I emailed RSD a couple of times trying to figure out when Alex was going to be running a bootcamp, finally after weeks someone from RSD got back to me and said Alex is no longer with RSD and he was pursuing another business.
About a month later, I found out about 4WN. I was going to do a 4-day bootcamp that costs about the same, here I get to spend 4 weeks with a legend. "
Here's what you get when you order today:
– Instant Access on Any Device
– 28 Hour Video Presentation
– 8 Hours of Infield Video Breakdown
– Instant Dates Masterclass
– Inner Game Of The Social Self
– Social Media Mastery
– Day Game Inner Game
– Day Game Masterclass
– Tinder Game Mastery
– Text Game Mastery
– Phone Game Mastery
– Dates And Multiple Relationships
– Bonus Ryan + Alex Full Student Breakdown
– Bonus 5 Classic Alex Infield Videos
HOmepage:
https://www.4weeknatural.com/day-game-phone-game
Screenshots