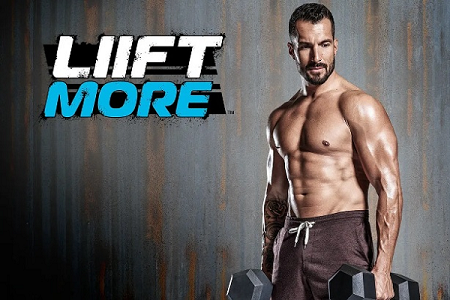 Beachbody – LIIFT MORE 2023 | 21.56 GB
Burn more fat and build more muscle with a simple but effective combination of classic weight training and fat-torching HIIT workouts. This is a total-body transformation program made for those who love to lift.
Is LIIFT MORE right for me?
LIIFT MORE makes serious weight training approachable for everyone, because Super Trainer Joel Freeman knows exactly what it takes to build strength and confidence while pushing you out of your comfort zone. With his tried-and-true formula of classic weightlifting and HIIT, Joel shows you that burning MORE fat and building MORE muscle doesn't have to be intimidating or complicated. So whether you're already a LIIFT4 fan or just looking to take your results to the next level, commit to the challenge and you'll see a powerful total-body transformation.
What are the workouts like?
LIIFT MORE is 40 workouts, 5 days a week, 35 to 45 minutes a day, for 8 weeks. In Phase 1 Joel alternates traditional weightlifting days with lift/HIIT days to help build strength and lean muscle while burning a ton of calories. Same in Phase 2, but he pumps up the volume and intensity with new training splits for a whole new challenge. Every workout ends with an abs-focused finisher to shred and strengthen your core. There are modifications to help you get great results at any fitness level. Joel also includes nine LIIFT Express workouts, quick 20-minute sweat sessions for days when you're short on time or want to target a specific muscle group. On your rest days, do Joel's upper and lower recovery workouts to help your tired muscles bounce back faster so you can crush your next workout with full strength and energy.