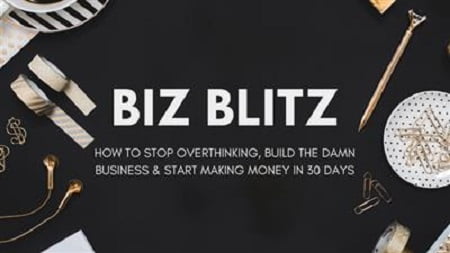 Biz Blitz – Elise McDowell | size 2.1 GB
Description
YOU HAVE A DEEP DESIRE TO HELP OTHERS
You're here to share your message and your work.
And take that purposeful step in the direction of your dreams.
And you want to be paid well for the work you do that changes lives.
Plus have the freedom and lifestyle you crave.
There's just a few not-so-little problems..
YOU'RE.. ERR..
Frazzled AF with how to build a successful business without going broke.
Confused, frustrated and defeated about your lack of results and continuous burnout.
Bursting with a million and one ideas to execute but paralyzed by what to start with.
Stuck in the perfectionist cycle and not getting anything done because it's "good" enough.
NOT making the income you really want to be making.. like AT ALL.
I KNOW HOW YOU FEEL
I do. Really.
I was right there where you are for years – 5 to be exact – and I remember feeling so defeated.
I had the desire, the drive and the passion but I was constantly second-guessing myself.
I didn't know what tasks to focus on to grow my business, I'd get overwhelmed by the grand scheme of it all and if I didn't get things "perfect" I'd procrastinate or start a whole new blog.
That's when I started to think that maybe I just wasn't cut out for the entrepreneurial world.
But I scrapped that ridiculous thought pretty quickly because I realized that the problem wasn't ME, it was that I was making it too complicated.
I thought I had to be on Facebook and Twitter and Instagram and Youtube and LinkedIn.
I thought I had to do ads and flyers and go to lame ass networking seminars.
I thought I had to be an expert of the topics I wanted to talk about before I could teach on them.
I thought I had to be everywhere doing everything that everyone else was doing at the same time, and it had to be glitzy and glamourous.
Basically, I thought I had to be just like Marie Forleo and Jenna Kutcher.
But I realized that was so damn far from the truth.
You see, I'm lazy.
I like things to be easy.
I don't like things to be complicated.
I don't like being coddled.
I just want things to be straight to the point.
And that's when I decided.
I decided that business gets to be easy.
That making money gets to be stupid simple.
And, above all, it gets to be fun.
And guess what? Now it IS.
Want to learn how you can make it easy, simple and profitable for you too?
Screenshots