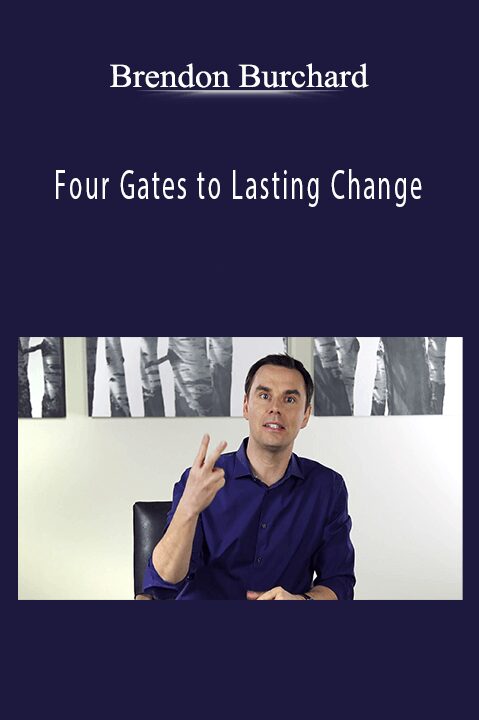 Brendon Burchard – The Four Gates to Lasting Change (2016)
WEBRip | English | MP4 + MP3 + PDF Guides | 1920 x 1080 | AVC ~3750 kbps | 23.976 fps
AAC | 128 Kbps | 44.1 KHz | 2 channels | 01:03:34 | 1.84 GB
Genre: eLearning Video / Business, Mindset, Achievement
Our community has been so incredible to me this year. Per our annual tradition, heres the full 2016 rundown on how far youve helped share my message of motivation and high performance:
1. This year, we crossed 50,000,000 views on my YouTube channel. Overall, across all my sites, weve now had over 100MM video views and people have consumed over 9,000,000 HOURS of my training online now. OMG OMG.
2. Were just about to pass 5,000,000 fans on my Facebook page! On average, 25MM people see my posts each week across my pages. And yes, I still personally post every single thing you see from me on IG and FB. (Oh yeah, so I started on Instagram).
3. You kept my iTunes podcast in the top 10 self-help for the entire year – now two years in a row! (Android users can now listen on Stitcher Radio). Thats sort of huge for a show without guests or sponsors. I just dont want those lame podcast ads blasting in your ear! We turned down four seven-figure sponsors this year because I think you deserve to hear positive education without ads. I self-fund everything, so I can only maintain this because of your support of my books and courses – thank you again!
4. As you know, I dont do traditional media. But I did do two this year: Oprah interviewed me for her O Magazine last January and Success Magazine ranked me in the Top 25 Most Influential in Personal Development. These opportunities and rankings happen because of very public results and reach meaning YOU! With the release of my next book in 2017, Ill finally do a media tour. Ill focus online mostly, but yeah, Ill be out there. Ill probably be in a city near you in the Fall. Ill announce dates in Spring 2017.
5. You made the anniversary edition of Lifes Golden Ticket a 1 bestseller. This is the book most near and dear to my heart. Theres lots of talk about making it a movie, so fingers crossed. Its the perfect Christmas gift so go grab it today.
6. You packed the rooms at High Performance Academy seminars. Next one is in San Diego, March 9-12th! Get tickets here! Im excited to share HPA is now the first empirically proven personal and professional development seminar to significantly increase high performance scores. I believe the results it gets has a lot to do with YOU – our amazing audience that shows up and levels up everyone else. 1000-plus people will be there. Hope youll join us and kick off the new year in stride and strength.
7. Every book I recommended in 2015-2016 hit the New York Times bestseller list. You guys love books! My friend Paulo Coelho has a new book out that I didnt get a full promotion out for, but its the latest recco: The Spy.
8. Over 1,225,000 of you have now completed a video series or online course from me. You love learning online! Ill be creating 4 new courses for you in 2017!
9. YOU succeeded, you grew, you shared your stories with me and all over the web. Im honored to have such a thoughtful, inspired high performance audience. I love how you honor the struggle, strive to live your best life, proudly share your voice, care about inspiring others. Ultimately, hearing your stories is the only thing that matters to me on this list. I love and appreciate each of you, and I think of you daily when I write my posts and dream big things.
10. You implemented. The number of our students achieving remarkable things continues to wow us. Love to hear your success story here.
Having the opportunity to write and train for you every day is a great blessing.
I take it seriously and Im deeply grateful for your support.
There was a time, many Christmases ago, when I was a struggling writer and trainer.
I never gave up because I just felt called to do this work. I guess I had a mission – and it turns out that mission was you.
Every day, I wake up and ask how I can help you improve your lives and achieve your goals.
Thank you for being part of my mornings, all year long.
On behalf of my family and team, I thank you for your support.
Wishing you and your family a warm and happy holiday season,
Brendon