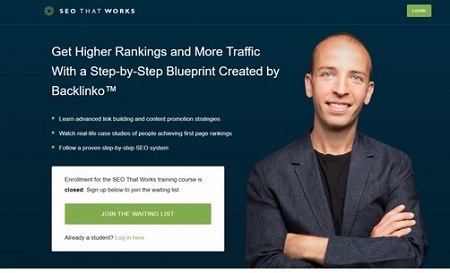 Brian Dean – SEO That Works 4.0 (2020) | 19.23 GB
Join SEO That Works 4.0, give me 8 weeks, and I'll show you how to quickly get more traffic, generate more leads and sales, (and most important of all) significantly boost your revenue.
I recently updated the entire program for 2020 (including lots of new strategies that are working GREAT right now).
Here's how it works:
Every week you'll get access to new video training sessions that come with step-by-step instructions that show you EXACTLY how to execute the material. Each lesson comes with additional training material like worksheets, field reports, and tutorials.
The best part? Whether you're new to SEO or a veteran, you'll get access to my proven SEO blueprint so that you can quickly grow your online business.
Plus, the SEO That Works system has been field tested by over 4,000 SEO That Works graduates. That way you don't have to wonder whether or not the system works. You just have to find out whether or not STW is right for you.
Read on to answer the question: "Is SEO That Works right for me?".
MODULE 1:Fast Track SEO Success
This module is all about getting you to Google's first page… FAST.
You'll learn how to rank a new site – or an existing site – in record time. These are the exact first steps I take whenever I launch a new site.
Here's exactly what you'll learn:
– My #1 secret for creating the ONE type of content that people love to link to and share (and not just shares from anyone… shares and links from authority site owners in your niche).
– The ONE thing you need to have on your site if you're serious about generating backlinks, social shares, and referral traffic. I call it a "PP." I've found that most sites that struggle can turn things around simply by adding a single PP to their site.
– Why you should avoid long tail keywords like the plague… and why Medium Tail keywords work much better.
– The "weird" approach I use to get influential bloggers and journalists to share my content with their audience.
MODULE 2:How To Publish Content That Attracts Links, Traffic And Customers
By the end of this module you'll be able to generate content that you can leverage for authority backlinks and targeted traffic over and over again. How? By tapping into my 7 proven Content Frameworks.
For example, I'll show you:
– The 7 "plug and play" Content Frameworks that I use to build links and drive traffic (including LOTS of real-world examples and exclusive field reports).
– My step-by-step system for creating industry studies that generate traffic, links and first page Google rankings. This system is the secret behind not one, not two, but SEVEN viral campaigns.
– How to use The Trademark Technique to generate buzz and establish yourself as one of your industry's go-to experts.
– The Crowdsourced Manual: My latest Crowdsourced Manual has brought in over 200k unique visitors (and ranks above Search Engine Watch, Search Engine Land and Forbes for a VERY competitive keyword).
MODULE 3:How To Promote Your Content And Get Backlinks From Authority Sites
Forget the "Publish and Pray" approach.
When you're done with this module you'll know exactly how to promote your content effectively (step-by-step).
These are the exact link building and content promotion strategies I used to achieve first page rankings for competitive keywords, like "on page SEO", "keyword research" and "backlinks".
Now, for the first time ever, I'll reveal each of them to you. More specifically, you'll learn:
– The dead-simple system for finding authority site owners that WANT to add your link to their site (it sounds crazy right now, but when you see it you'll say: " Why didn't I think of that?").
– How I use Content Amplification to promote my content the right way (hint: this has NOTHING to do with posting on Facebook or Twitter).
– The secret to email outreach that actually gets results
– (I hand you over 20 proven, word-for-word email scripts).
– The Applesauce Technique, and how it lands me authority links in every niche that I use it in (this is working REALLY well right now).
MODULE 4:Optimize for UX Signals
Content and backlinks will get you to Google's first page. But to stay there, your content also needs to be optimized for UX signals.
And in this module I'll show you exactly how to optimize your content for key UX Signals, like Dwell Time, Bounce Rate, organic click through rate, pogosticking, and more.
Here's what you'll learn in this module:
– The #1 tactic that you can use to reduce your site's bounce rate (FAST).
– The simple copywriting strategy that I use to keep Google searchers stuck to my page like glue.
– Why The CTR Magnet Method drives more search engine traffic to your site within days (not weeks or months).
– The technique that I recently used to increase organic traffic to one of my important pages by 652.1%.
MODULE 5:How to Scale SEO and Link Building
In the final module I'll show you exactly how to scale content production, link building and more. So if you want to outsource the strategies from the course, or just double down on what's working, this module is for you.
These are a few of the things you'll learn in this module:
– Exactly how to scale up the proven link building strategies that I cover in Module 3.
– My exact step-by-step process for hiring freelance writers, designers and more.
– How I doubled out content production at Backlinko… without sacrificing quality (in fact, our content got BETTER over that timeframe).
– The new link building strategy I recently developed that brings in authority links essentially on autopilot.
Screenshots