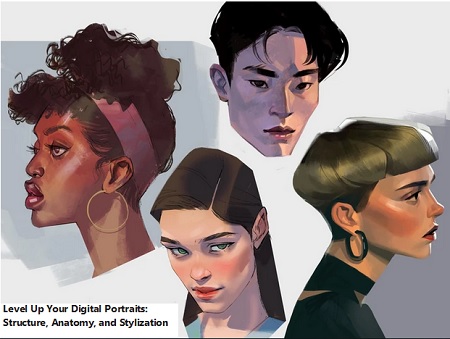 Class101 Level Up Your Digital Portraits – Structure, Anatomy, and Stylization by Aisha | 705 Mb
WHAT IS THIS CLASS ABOUT?
So many people are fascinated by portraits and there is no wonder why! A skillfully painted portrait can convey emotions and moods of a character in a way that is captivating and mesmerizing. But to create portraits that are full of life, it is important to have basic knowledge of structure and anatomy.
In this class, we will start by doing just that- studying the basics from skull structure to face features, gradually moving onto more advanced concepts such as tonal values, color, shape appeal, stylization, and more!
My goal for the course is to guide you through your art journey, providing you with practical knowledge you can implement in your art.
Chapter 1: Overview of Photoshop
– Basic drawing tools
– Brush types and settings
– Painting process in Photoshop
Chapter 2: Anatomy Basics
– Basics of head structure & proportions
– Drawing eyes
– Drawing noses
– Drawing mouths
– Drawing ears
– Drawing faces from different angles, Part 1
– Drawing faces from different angles, Part 2
Chapter 3: Practicing the Fundamentals
– Understanding Shapes & Edges
– How to draw volume: Light & Shadow
– How to do portrait studies
Chapter 4: Color
– Color harmony: Tips for selecting colors
– Warm and cool contrast and how to apply it
– How to paint skin
– How to paint hair
– Surrounding color and how it affects the portrait
Chapter 5: Painting Process From Start to Finish
– Finding reference & inspiration
– Sketching
– Base colors
– Adding lighting
– Tips on rendering and adding finishing touches
Chapter 6: Learning Different Approaches
– Tips on stylization
– Painting like a sculptor
– How to experiment with style
Bonus Chapter: How to Grow as an Artist
– Daily sketching exercises
– Art and social media
Homeopage
https://class101.co/products/aisha?_pos=1&_sid=90d581257&_ss=r
Screenshots