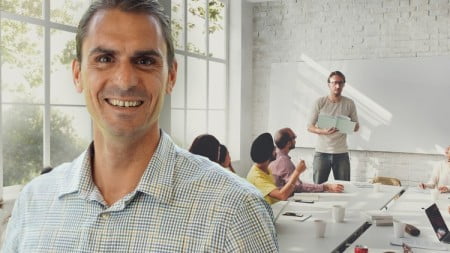 Complete Marketing MASTERCLASS for Startups & Leaders | 11.9 GB |
Advanced Marketing Strategy: Digital Marketing, Belief Framework, CRO, SEO, Content Engagement Plan, Multi-Channel Leads
What you'll learn
You'll be able to understand modern marketing, spread your ideas and gain empathy for those you seek to serve.
Lead a marketing team
Oversee marketing strategy
Understand the modern and essential elements of marketing.
Implement a strategic marketing playbook for your organization.
Outline full-funnel marketing campaigns for the entire year.
Requirements
Do you care about the change you seek to make?
If you're trying to grow a business, change minds or impact our culture, marketing is what you do. And that's all you need for this course… the desire to make something happen.
No experience or audience required.
Desire to learn marketing leadership strategies.
Suitable for all types of businesses (physical or digital product, service, B2B, B2C, and nonprofit).
Description
JUST UPDATED FOR 2019 WITH THE LATEST TRENDS IN MODERN MARKETING!!
Too many people know WHAT to do in marketing but they don't know WHY they are doing it!
Does this sound familiar? Anyone can learn how to post to social, write a blog post, or learn what SEO is, but quantity is not what works. What works are people who actually know WHY and WHEN certain marketing activities work.
That's the purpose of this course. By the end, you will have developed an actual marketing strategy, your own personal marketing playbook, that will guide you and your brand into the right marketing activity.
Think about it – no more guessing or assuming. You will be able to inform others and act personally based on the correct information!
Three reasons to TAKE THIS COURSE right now!
You get lifetime access to lectures, including new lectures every month (content is added/updated constantly).
You can ask me questions and see me respond to every single one of them thoughtfully!
What you will learn in this course is original, tested, and very detailed! It comes from years of graduate-level education and 20 – of marketing leadership experience across dozens of industries.
What are the requirements?
No experience or audience required.
Suitable for all types of businesses (digital product, physical product, service, B2B, B2C).
Why take this Course?
Become a Leader – Learn how to think & act like a strategic marketing leader.
Modern Marketing – The world of marketing is in constant flux. Don't get left behind.
"Why" of Marketing – Learn the "Why" of marketing rather than just the "How."
What am I going to get from this course?
Practical theory – Great marketers and great entrepreneurs are great learners. We'll cover the theory that you need to understand to drive your own Demand Gen program.
Hands on – Throughout the course, we give you multiple opportunities to slow down and apply what you have learned by building out the real-world plan that your company needs.
Peer Learning – Your instructors are peers, start-up founders and fellow marketers with decades of tangible experience in every stage and level of an organization.
What is the Target Audience?
Business Owners – Increase your business revenue, pipeline, and ROI by building out transformative demand generation programs that actually work.
Startups – Leverage proven marketing processes and practices to establish and increase your user-base and business revenue.
Marketers – Increase your current marketing knowledge by learning the most effective tactics, best practices, and processes.
Go from Beginner to Advanced
No matter what level of marketer you are, you will go from beginner to advanced marketing leader as we walk you through building your own model.
All the strategies, tips and tools recommended are either included, free or very cost effective.
Who this course is for?
Early-Stage Founders
Freelancers
Entrepreneurs
Change agents
Brand managers
Marketing Leaders
Digital Marketers
CEOs
Anyone who wants to make an impact
Screenshots