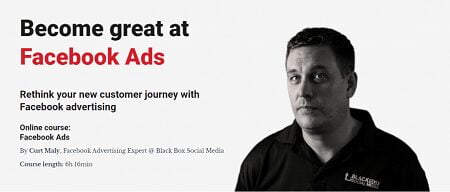 CXL – Curt Maly – Facebook Ads (UP)| 6.75 GB
Find out where your Facebook Ads are bleeding money
If you're spending any money on online advertising, you're leaving a ton of money on the table and you don't even know it.
You don't have to spend thousands and thousands of dollars on Facebook advertising to see results-if you do it right.
That's where the B.E.L.T. method comes in. This award-winning method teaches you exactly how to align your message and objectives throughout the entire new customer digital journey. At the same time, it helps you reduce acquisition costs by up to 80%.
With only a couple of dollars a day, you can build complete belief system that will move people throughout your entire funnel and stop your ads from bleeding money.
After taking this course, you'll:
– Understand the new customer journey so you can properly structure your Facebook ad campaigns for success.
– Use the B.E.L.T. Marketing Strategy to build brand awareness and authority, indoctrinate the audience to the problem that your product/service solves, and ultimately gets customers to invest in you.
– Structure a sustainable and scalable Facebook marketing campaign that generates less expensive traffic, leads, and sales while also lowering your risk of an ad account shutdown.
– Learn to utilize video and Facebook Live(s) to identify and segment audiences for better targeting and to increase conversions.
– Have an understanding of how to approach and build successful Facebook ad campaigns.
– Learn how to test ad creatives and audiences inexpensively and quickly with the $1/day strategy and warm market retargeting.
This course is essential for you if .
– You've done Facebook advertising before.
– You're constantly starting and stopping ads.
– You want to lower your acquisition costs.
– You're an entrepreneur or an agency who wants to build a sustainable full-funnel facebook ads strategy to build more awareness, authority, and win sales.
– You want to optimize your current campaigns and understand why certain aspects aren't working.
This course is NOT for you if you.
– You've never ran Facebook Ads before.
– You don't have a basic understanding of retargeting.
Screenshots