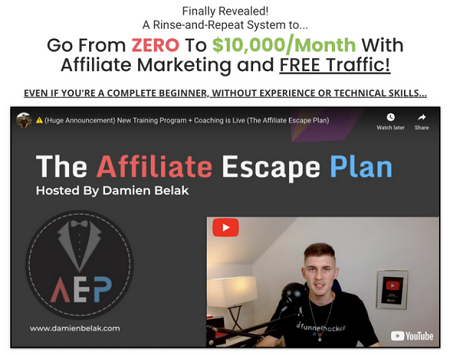 Damien Belak – The Affiliate Escape Plan | 29.9 GB
WHAT YOU GET?
Module #1
The Affiliate Escape Plan
– In this module you will learn how to start building the foundation.
– You will be introduced to affiliate marketing and have it explained to you in a way thats easy to understand.
– ​You will learn EXACTLY how to start affiliate marketing even if you're a complete beginner.
– ​But most importantly, I will show you how to setup your affiliate marketing business for the long term
Module #2
Niche Research Academy
– In this module you will learn my SECRET strategy to finding winning niches that you can quickly dive into.
– You will learn how to find products that will get you high converting Affiliate commissions!
– ​I will share with you the top 3 evergreen niches that will always have millions of hot buyers waiting for your offer!
– ​How to find little-known products with insanely high profit potential
Module #3
The Perfect Affiliate Funnel
– In this module you will learn EXACTLY what you need to do to build your commission generating website.
– You will learn how to integrate your affiliate marketing business into funnels and create high converting funnels that increase your affiliate sales.
– ​I will show you how to set up the passive income system that will allow you to run your business on autopilot.
– ​I'll even throw in my best converting funnels for FREE!
Module #4
Email Marketing Academy
– This is where I show you how I follow up with customers using email marketing all on autopilot.
– This is the secret sauce that allows me to literally print money anytime I need it with one click of a button.
– I even give my proven 5 figure month-done for you templates that allow you to hit the ground running!
– ​You will learn how to setup a system that will allow you to promote specific products to specific buyers automatically!
Module #5
Free Traffic Academy
– Don't want to dive into paid traffic? No problem!
– ​Learn how to flood you offers with free traffic that converts like crazy. Understanding the power of free traffic will change your life, it truly is passive income.
– ​I will show you my real strategies that I use to get commission with free traffic sources online. Not only that, I will teach you how to do these strategies step by step.
Module #6
TikTok + Instagram
– Leverage 8 to 15-second videos to massively grow your business QUICKLY.
– ​This is the Easiest & Fastest solution! I will show you how to create EXTREMELY SIMPLE videos that last 15 seconds and get thousands of leads and sales very quickly.
– ​This is the fastest and easiest way to grow your business especially if you are just starting out.
– ​I will also show you a strategy that works just as well WITHOUT Showing your face!
Module #7
YouTube
– How I get unlimited and targeted customers to my affiliate offers using YouTube.
– You will learn how to leverage YouTube WITHOUT using your face.
– ​This is by far the best module on how to get customers because I show you how to create a piece of content once and then how that content will bring in sales forever.
– ​This Allows you to truly have time and financial freedom.
Module #8
Facebook Groups
– You will learn how to leverage facebook groups and literally 10x your profits!
– I show you my strategy on how I use Facebook groups to build my brand and trust with my audience.
– ​I will show you a method that only takes 30 minutes per day & brings MASSIVE results!
– Facebook groups are a big part of my online marketing strategy as it brings more trust & authority which allows you to sell anything you want.
Module #9
Facebook Profile Funneling
– In this module you will learn how to use your facebook profile to close high ticket sales!
– This module is perfect for those who don't want to spend any money on tools or software and just want to make money using 100% FREE methods.
– ​This module includes a Case Study that will show you the entire conversation with a potential lead that ultimately leads to a high ticket sale!
Module #10
Facebook Reels
– In this module you will learn how to use Facebook Reels To Generate endless leads for your affiliate business
– Facebook Reels is the by far the best & easiest way to get traffic to your website. It's New & It works for everyone.
– ​Tap into the hottest social media platform with simple short videos to explode your revenue.
Module #11
Launch Jacking
– This module will show you how to promote programs that haven't even been released yet.
– This is by far the easiest way to make your first $10,000 online, This is how I & many other successful affiliates got started.
– These launch jacking strategies have allowed me to promote highly trendy and viral products without having a customer list, a big youtube channel, or a website.
Module #12
CPA Marketing & Paid Traffic
– This module will teach you how to pick Highly Profitable CPA Offers From Secret Networks
– You will learn how to create profitable push notification campaigns using my secret strategy.
– I Will show you how to Scale & Optimize your campaign for best results. Sit back and let the money roll in without any EXTRA Work
– I have Collaborated With Propeller Ads on my YouTube channel & I have attended multiple webinars with their marketing team. I know all the tips & tricks to create a profitable campaign. I know what works & what doesn't.
Homepage:
https://www.damienbelak.com
Screenshots