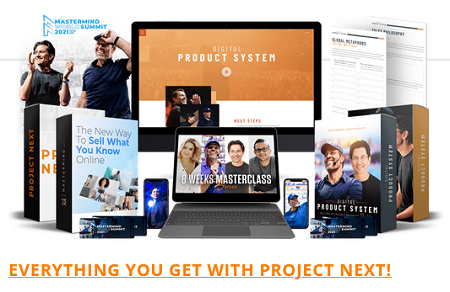 Dean Graziosi & Tony Robbins – Project Next [Full] | 71.33 GB
SELF EDUCATION REVOLUTION PRIVATE COMMUNITY
(PRICELESS)
This is truly the ultimate secret weapon that most people don't ever think they need, but it's what will skyrocket you on your journey unlike anything else.
You will become part of a new family where you can go anytime for a confidence boost, accountability, advice and collaboration with people who are on the same mission with the same heart as you!!!
Plus you'll get LIVE weekly trainings to keep you "in the know" on the most cutting edge strategies that are working for Tony, Dean and their team in the knowledge industry. so you never stop learning and gaining new next level capabilities!
Unleashing Your Creativity ($149)
If you're struggling with confidence showing up online or questioning how to clothe yourself in your new identity, the one where you proudly wear the title "educator," get my complete social media success guide (valued at: $149) along with a module all about overcoming imposter syndrome and showing up NOW to start making an impact.
Jenna; like Tony & Dean want our Project Next family to step confidently into who they are meant to be and that is exactly where this incredible bonus comes into play. Don't miss out on this incredible once ever bonus!
EVERYTHING YOU GET WITH PROJECT NEXT!
– Digital Product System (IMMEDIATE DIGITAL PROGRAM)
All new 6 module course on how to launch & scale your digital product by discovering the next level mindset, strategies and tools to confidently sell what you know in today's NEW world. Enroll now and start this online course immediately! ($5,000)
– 8 Part Master Class Series
Get next-level deep dive training from Dean and elite guests to overcome hurdles, get your questions answered and be empowered to confidently finish the course and launch your product. ($2,000)
– Preferred Ticket to the 3 Day Virtual Live Event
Join the greatest speakers at the Mastermind World Summit where knowledge turns into mastery, imposter syndrome goes away and your next level ignites during an epic 3 day full immersion experience. ($697)
– 3 Free Months To Our Incredible Implementation Tool
Tony and Dean spent over $1 million dollars to create the super easy Mastermind.com tool to make this real and spread your message to the world! Go from theory to selling online in just 3 steps. ($141)
PLUS THESE INCREDIBLE BONUSES!
– TONY ROBBINS NEW BONUS: Modeling The Mentors
Tony interviewed Kevin Hart, Michael Phelps, Sara Blakely, Conor McGregor and Sylvester Stallone in a closed door training and you will get access to these world class success secrets for FREE!
– Unleashing Your Creativity With Jenna Kutcher
In this special training Jenna is going to help you overcome imposter syndrome & show up with confidence on social media! This is the only way to get Jenna's "complete social media success guide" FREE! ($149)
– Mastermind.com A-Z Journey With Tanner Sheldon
Get a complete walkthrough of how to simply build and list your courses on Mastermind without the headache or overwhelm!
Homepage:
https://ownyourfuturechallenge.com/projectnext