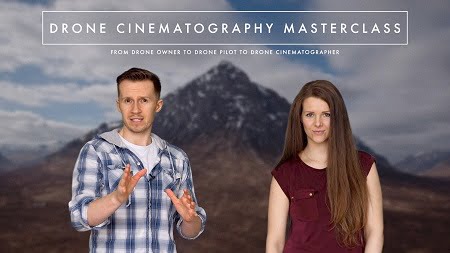 Drone Cinematography Masterclass (UP)
MP4, AVC, 1920×1080, 25 fps | English, AAC, 2 Ch | 8h | 3.77 GB
Instructors: Stewart & Alina Carroll
From Drone Owner To Aerial Cinematographer.
How long is the course?
The filmmaking masterclass is approximately 7 hours long and the editing workshop is 1 hour long.
Will this course go out of date as new drones come out?
Absolutely not. It will become quickly apparent that this course is NOT about the latest technology, camera settings and flight modes. Quite the opposite. It is about filmmaking principles that have existed for decades and that can now be applied to drone cinematography. The course is timeless, as are the skills you will learn.
Do I need a DJI drone for this course?
No. It is difficult to avoid DJI when talking about drones and certainly we have only ever owned DJI products. That being said, we have done our best to make this course drone agnostic although some of the discussion about settings and such like you will need translate to your own system if your drone is not DJI.
What is NOT included in this course?
This is not a business coaching course so whilst we build your skills to the point at which you can charge for your services, we do not tell you how to get clients and run a drone filming business. Drone regulation is not covered in this course (it is too boring!).
Is this course suitable for complete beginners?
Certainly. The course goes back to basics and teaches you how to fly a drone for the first time so it is perfect for novices. That being said, the course is fast-paced and heavily weighted towards content that is suitable for beginners and advanced pilots alike.
Do I need special software for the editing workshop?
By definition, you will need editing software to edit your drone footage but you do not need to use Final Cut Pro X (FCPX) which is the software we use. Much like the filmmaking masterclass, when it comes to editing, it is what you do with it that counts! We teach you concepts and techniques that can be applied across any editing software so the workshop is relevant and applicable for anyone with an interest in improving their editing skills.
Screenshots