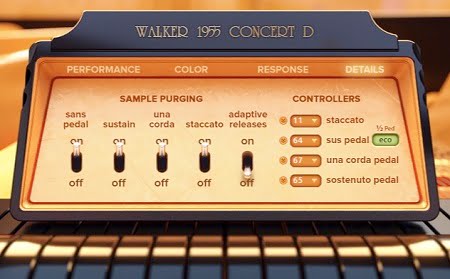 Embertone – Walker 1955 Concert D Full (KONTAKT) | 188.8 GB
Concert "D"
At 9′, the Steinway D is considered by many the pinnacle of pianos.
The instrument we sampled is equipped with a custom system for re-performance, developed by Zenph. That's how we recorded our samples so precisely!
All Pedal Combinations
We captured all of the possible variations one can play between the sustain, una corda pedals, and sans pedal.
The samples are beautifully even because of the 're-performance' technology that this piano is equipped with!
Make it Your Own
You can easily bend this piano to your musical will! Our intuitive controls allow you to move easily between jazz/classical/cinematic/pop and beyond.
Beyond that, you'll find a whole page of simple ways to alter the tone and feel of this majestic Steinway.
36 velocities per note
We went crazy recording 36 velocities per sample set (i.e. for every pedal combo). Because of the extreme accuracy of the instrument, you get a beautiful, smooth response from lo to hi velocities.
If you don't want a billion samples loaded, you can scale the instrument down to the velocity level you want.
10,000+ Realistic Release Samples!
Most virtual pianos have a single, static set of releases, triggered the same way no matter how you play a note. Not this piano! You'll hear a different release sample depending on how hard AND how long you play a note.
Especially with the stronger notes, you'll even get a sense of the beautiful recording space!
Dedicated Staccato Samples
There's something amazing about REAL staccato samples. the way the mechanism reacts and then a subtle sense of space is created.
This is why we sampled an unprecedented number of staccatos: 36 velocities X2 repetitions for each of the 88 notes!
6 Mic Positions
The default position is a sweet set of close AKG C414s, and then 5 other options with a wide variety of tone and feel.
Homepage:
https://embertone.com/instruments/concertD.php