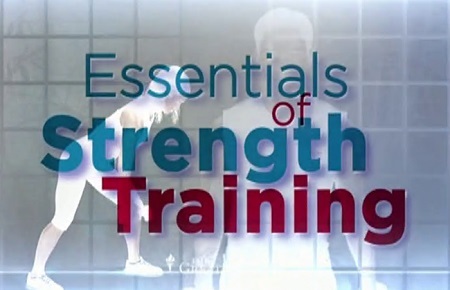 Dean Hodgins – Essentials of Strength Training
SIZE: 2,6 GB
This groundbreaking course on strength training unites scientific knowledge with results-driven practice in a wholly integrated system. With lectures designed to educate you on your body's response to a variety of exercises plus workouts, this course will help you build a stronger body.
We're all on a lifelong quest for that one secret or tool that will enhance our personal health, fight the negative effects of aging, and change our lives forever. Yet that secret has actually been hidden in plain sight all along. Strength training holds the key to unlocking your optimum health and achieving your peak physique, whether you're 28 or 78.
While many people are intimidated by exercises involving weights and resistance or think the sole purpose is to build Herculean muscles, the truth is that strength training is a vital component of even basic fitness; one that can—and should—be a part of everyone's fitness regimen. No matter what your age or fitness level, strength training is an essential counterpoint to any cardio exercise you may already be doing. It's also a chance to transform your body in a manner that's more responsible, healthy, and effective than any fad diet or infomercial exercise machine that targets only a single muscle group.
And medical experts agree: When you make strength training a part of your fitness regimen—for only 30-minute sessions two to three times per week—you're taking giant leaps toward improving your health. You'll
halt and, in some cases, reverse muscle loss and other changes that come with age;
ward off, lessen, and even reverse the effects of back pain and other chronic health conditions;
enhance your ability to lose weight;
improve your memory and the quality of your sleep;
reduce symptoms associated with anxiety and depression; and
improve your flexibility, balance, and coordination.
Of course, anyone can just take a trip to the gym and start strength training. What you can't get anywhere else: a program that combines the science of strength training with the workouts themselves. Essentials of Strength Training, our engaging course of three preparatory lessons and three workout sessions, does just that. Crafted by popular Great Courses instructor and international fitness expert Dean Hodgkin, it offers you medically sound and authoritative information to significantly boost your strength and your overall health. With insightful explanations of human physiology, helpful demonstrations of techniques and equipment, and interactive workout programs that show you the right way to perform dozens of exercises, this course is your chance to take a big step toward changing your life for good.
Explore the Science behind Your Strength
What makes Essentials of Strength Training unlike your average fitness program or gym routine is its focus on the science behind your muscular strength. With the skill of someone whose career is dedicated to educating clients about the life-transforming benefits of physical fitness, Mr. Hodgkin uses 3-D animations, models, and green-screen technology to reveal a wealth of information on human physiology as it relates to how your muscles work and how you can make them stronger.
You'll discover
how different strength-training exercises work on different muscle groups;
how your muscles work, grow, and repair themselves; and
how your body gains fat and how you can use strength training to promote weight loss.
You'll also get tips for making the most of your workout and for crafting a strength-training program that fits your specific needs and goals, such as these:
Start with light resistance to allow your muscles to acclimate to increased weight loads.
Opt for standing rather than seated exercises, as these promote balance and coordination.
Perform a workout routine in reverse order as an easy way to stimulate greater progress.
Exercise Your Way to a Stronger You
Once you've gotten the scientific concepts down, you're ready to start working out. Essentials of Strength Training comes with three in-depth workout sessions that let you put what you've learned to practical use. These 30-minute workouts are short enough to fit into the busiest of lives. And unlike working out in a gym studio, you can always pause the course to practice your form, do the workout twice in a row, and mix and match exercises to strengthen and tone your body whenever you have spare time. You'll also have the opportunity to mix and match warm-ups and cooldowns.
Each workout focuses on a key aspect or benefit of strength training.
Functional Strength Workout: Mr. Hodgkin's functional strength-training workout uses squat presses, lunges, planks, abdominal pikes, and other exercises that strengthen your core, improve your balance, and train your muscles so that you gain fitness you'll use in everyday movements.
Weight Loss and Maintenance Workout: This intense workout, with its short bursts of high-intensity exercise, results in an increased metabolic rate—which can lead to more effective fat burning.
Partner Workout: Working out with a partner can provide a unique resistance tool, challenge your body in new ways, and motivate you to stay on track.
Empower Yourself for Life
With Mr. Hodgkin as your instructor, you'll quickly get over any trepidation you may feel about strength training. As he delivers his lectures, he's authoritative and informative, and he makes the science easy to grasp. And as he guides you through his workouts, he's motivational and encouraging. It's the perfect combination for easing yourself into a new level of fitness and personal wellness that can empower you for life.
Homepage
https://www.thegreatcourses.com/courses/essentials-of-strength-training
Screenshots