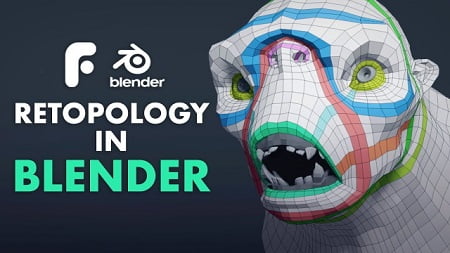 FlippedNormals – Retopology in Blender 2.8 | 1.89 GB
Learn how to do retopology in Blender using simple and effective techniques. We cover all the tools you'll need as well as a lot of fundamental theory. With over 4 hours of training, this covers everything you need to know about retopology. By the end, you'll know how to retopo your all own characters!
INDUSTRY TECHNIQUES
Your instructor, Henning Sanden, has been doing retopology for characters for over a decade – most notably he retopologized the Xenomorph from Alien Covenant. The techniques shown in this series are exactly the same as the ones used on the Xenomorph.
FUNDAMENTALS
We focus heavily on strong fundamentals in Retopology in Blender. Instead of just showing you the different steps, we cover why you retopo like you do. The concepts shown are applicable in all 3D software and are universal.
BLENDER RETOPOLOGY TOOLS
Throughout Retopology in Blender, we'll use the default modeling tools. No plugins needed! Blender has a great set of tools which are excellent for retopology. We cover all the modeling tools needed, like extrude, polybuild, merge, f2 – and many more!
01. Why Do We Retopo
02. Customizing Blender 2.81
03. Retopo Settings
04. Retopo Tools
05. Retopo Theory and Process
06. Connecting High and Low Topo
07. Body Topo Theory
08. FAQ
09. Modeling the Face – Blocking the Loops
10. Modeling the Face – Filling in the Loops
11. Modeling the Face – Ears
12. Modeling the Face – Refinement
13. Modeling the Face – Finishing the Head
14. Modeling the Face – Gums and Teeth
15. Modeling the Face – Finalizing
Homepage:
https://flippednormals.com/downloads/retopology-in-blender-2-8/
Screenshots