Freelance Work From Home: Top 5 Freelancing Skills by Petko Zhivkov Aleksandrov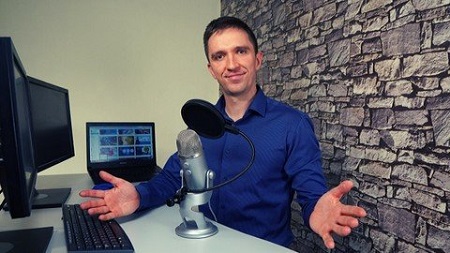 Freelance Work From Home: Top 5 Freelancing Skills
Last updated 4/2020
MP4 | Video: h264, 1280×720 | Audio: AAC, 44.1 KHz
Language: English | Size: 3.74 GB | Duration: 5h 23m
Description
Is freelance work what you are looking for to start earning money from home?
Millions of people are doing this nowadays. And you can do it as well! But, you need to have some freelancing skills.
In this freelancing course, you will learn everything you need to know about freelance work.
My name is Petko Aleksandrov, and I am an ex-freelancer. Why Ex? Because nowadays, I work from home as an entrepreneur, and I hire freelancers.
I will even share my story of life. And you will see that it is Nothing unrealistic—goal after goal, day after day, pursuing happiness to work from home.
Yes, I can call myself a happy man because I don't work from 9 to 5 and have a boss!
At the beginning of 2020, the world is headed towards another financial crisis. As a professional trader, I know that unemployment will rise. So I decided to create a freelancing course that will be extremely useful to everyone who can't work in the office and wants to earn money with Freelance Work from home.
Being a freelancer will allow you to take control of your career and work no matter where you are and your education. Of course, the more you know, the better. This is why, in this freelancing course, I have put many skills that you will need.
Yes, with this course, you will learn freelancing skills necessary for everyone, and I will share great tips in each field with you.
You will see which freelancing websites have the most traffic and freelance work, so you won't be wasting time on a platform where you can't get many projects.
What will you learn in this freelancing course?
freelancing skills that are necessary for 90% of the projects
variety of techniques and tricks that you can apply in your online freelance work
how to stay motivated when you work from home
the right attitude towards your employer and yourself as a freelancer
how to design all types of projects even you never did it before
tips about video editing that will help you get your first job
how to automate your social media, which will save you time
content writing tips and tools that will improve your writing
Ten rules to create excellent SEO blog posts for first pages on Google
If you are a complete beginner in freelancing, I will help you get your first job working from home. Along the course, we will build your portfolio of projects which you need to have in your freelancing profile.
Which freelancing skills will we cover in this course?
Content writing
Video editing
Design
Social media
Customer service
Throughout the course, you'll have the opportunity to practice the new freelancing skills with different practical activities. This way, you will improve yourself as an artist who is ready to get on the stage.
By the end of this freelancing course, you'll know what you need to improve on yourself. I will show you so many things that you might find a new field to become an expert in. Being an expert is the only proper way to have more freelance work and take control of your career.
Every day we have the opportunity to become specialists in a field. But few people do it. With this freelancing course, I will show you that working from home is possible, not rocket science.
With the freelancing skills that I will teach, you will feel more confident applying for your first project!
Unlike so many freelancing courses on the subject that will teach you how to register in Upwork or apply for the job, with this freelancing course, you will learn specific skills that are the only thing employers look for.
How do I know that? I hire freelancers, and all I care about is not how they approach me but what they can do for me.
What do you need to start Freelance work?
No experience as a freelancer. I often hire freelancers that never done a single project before.
It would be best if you had your laptop, and you could work from the couch, Nothing to invest in.
No subscriptions. I will show you which are the best website to find freelance work.
No software. During this freelancing course, I will show you free apps and programs you can use to start.
I am sure you are going to love this freelancing skills course. And if you don't, Udemy guarantees it with their no-risk 30-day money-back guarantee.
You have Nothing to lose. Every new skill that you learn in life is a treasure. And in this freelancing course, you will discover many.
Thank you for signing up for this Freelancing course on Udemy, and I will see you in the first lecture.
I am also available for any questions on the course discussion board. If you have a hard time finding a freelance job, this course will help you with that.
Ready to be your boss working from home?
Enroll today, and you will see how I do it!
…………………………………………….
See what our students say about the course:
Ivaylo Belev – I'm amazed how extensive this course is and how many new things I learned!
Homepage
 https://www.udemy.com/course/freelancing-skills/ 
Screenshots