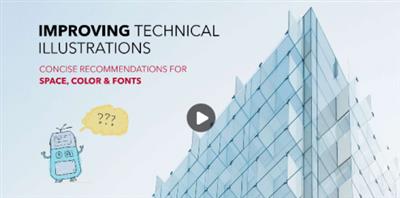 Improving Technical Illustrations: Concise Recommendations for Space, Color, and Fonts
Genre: eLearning | Language: English | .TS
Anyone who has to present anything technical knows how difficult it is to make your illustrations look good. Technical people have little time left after working on problems of their own field to learn the theory behind making figures beautiful. The end result is that even though the technical work behind the figure is elegant, the figures representing the work look bland and just don't appeal to the audience. A quick search for any technical term on any image search engine is sufficient to prove this.
This course aims to address this issue by providing very concise guidelines on how to avoid common mistakes while drawing technical figures. These figures can range from UML diagrams to software architecture figures, flow diagrams block diagrams, or really anything you can think of. It doesn't matter which field you are working in: computer science and software engineering, business, medicine, space engineering, or even social sciences and humanities – everyone will get something out of this course.
This course is not a tutorial on how to use a particular tool. In fact, all the discussions we have are going to be general guidelines. So, you can apply them in whichever tool you are comfortable with. I do provide recommendations about which tool I think is best but that's all it is – a recommendation.
At the end of the course, you will be expected to enhance a figure you have already drawn in light of the suggestions given in the course and submit it for review. Constructive feedback on your work is the best way to learn after all!
https://www.skillshare.com/classes/Improving-Technical-Illustrations-Concise-Recommendations-for-Space-Color-and-Fonts/412409217