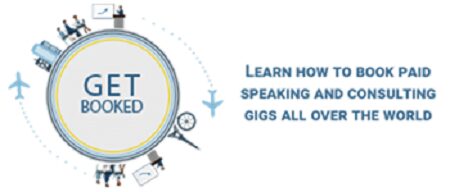 Kimanzi Constable – Get Booked | 14.57 GB
You get on a flight heading to some exotic country that's on your bucket list. You walk into the plane and the flight attendant directs you to the First Class cabin. You get to your seat and smile. It's a pod-style lay flat seat that will give you enough room to be comfortable for the more than eight-hour flight.
As the plane starts to climb, you smirk taking in the entirety of what's about to happen. On the flight, you get some sleep, watch a few movies, enjoy the yummy meals in First Class, and do a little work. You pull out your laptop and run through the presentation you'll be giving in a few days.
The first leg of the experience comes to an end as you land in a country that has every part of your body tingling in excitement. You get off the plane and head towards customs. As you walk up to the customs agent, you hear, "what is the purpose of your visit?"
At this point, your face hurts from smiling so much. You look the customs agent in the eye and tell them you're there for a consulting gig at a company. You explain that the company booked you because of the knowledge and skills you have around a particular topic.
The customs agent stamps your passport and tells you how interesting what you do for a living is. They end with, "welcome to our country!"
You step foot into a country that you've always dreamed of experiencing. That moment is even sweeter because the company that booked you paid for the First Class tickets, all of your other travel expenses, and paid a five-figure consulting fee for the three-hour presentation you'll be giving.
In all, they invested over $30,000 because they wanted YOU!
If all of this wasn't enough, you get an email saying the C.O.O. wants to sit down with you after your training. They want to license your online courses at a rate of $2,000 an employee and inquire about hiring you to set up an automated training program at their company. You'll make passive income after your gig.
You do the gig and ROCK it. You lock in the passive income deals and have several days to enjoy that country with someone you love. You have so much fun that you can't believe this is what you do for a living. But, it is!
You get on that flight home and start smiling again. This was just your first consulting tour. There will be many more with all kinds of amazing new experiences.
Screenshots