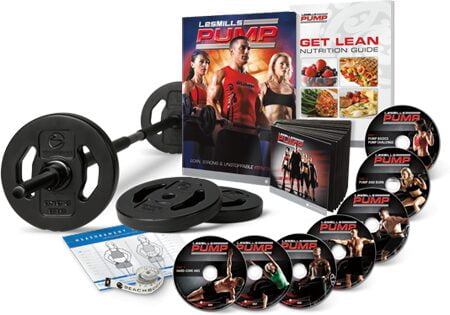 BeachBody – Les Mills PUMP Workout (Complete) | 5.03 GB –
What is The REP EFFECT?
It is when you fatigue the muscles using light-moderate weights at a higher rate of repetition. You make changes in the tempo, position and speed of movements.
You will perform between 70-100 reps per body part for a total of 800 reps during the workout!
It has been clinically proven that you can burn up to 1,000 calories in a workout PLUS, you can burn fat for 24-48 hours AFTER you workout. This is from an independent study done at Chapman University in California.
The 3-Phases of PUMP
Phase 1: Te Wero (The Challenge)
The focus is on shorter but challenging workouts to boost metabolsim and stimulate weight loss
Phase 2: Panoni (The Change)
The foucs is on changing your shape by building and scupting muscles that help you "lean out"
Phase 3: Kia Kaha (Be Strong)
Gets you lean, ripped, chiseled and sculptedSAN FRANCISCO, CA–(Marketwire -01/03/12)- LES MILLS®, creator of some of the world's most popular group fitness programs, has teamed with Beachbody® to create LES MILLS PUMP, a DVD-based at-home workout available now.
LES MILLS PUMP is based on BODYPUMP® by Les Mills, the original weights-to-music group fitness phenomenon enjoyed by millions of consumers every week in 80 countries around the world.
For the first time, Beachbody brings the Les Mills formula to home workouts. Beachbody is one of the most successful developers and promoters of exercise products, having created best-selling home-workout brands that include P90X®, INSANITY®, and TurboFire®.
"Les Mills programs are scientifically backed and proven around the world to get people the results they want fast, and LES MILLS PUMP is no exception," says Les Mills Chief Executive Officer Phillip Mills.
"This is the first time people in the U.S will have a chance to sample our group fitness programs at home. Backed by some of the most motivating music ever used on home DVD, and coached by a group of the world's best trainers, this is a unique way to transform your body and get in shape."
BODYPUMP® is Les Mills' most popular group fitness program, available in 13,000 clubs around the globe, including 3,000 in the U.S. alone. The secret ingredient is THE REP EFFECT™, which employs lighter weights at very high repetitions compared to most traditional weight-training programs.
"Unlike traditional resistance workouts that use heavy weights and can bulk you up, THE REP EFFECT™ means you build long, lean muscle," says Phillip Mills. "It's this proven element that has made BODYPUMP® one of the most successful group workouts on the market.
"LES MILLS PUMP is for people who prefer to work out in the comfort of their home. And once they've had a taste, we know they'll want more of the group experience in the 3,000 clubs that license our programs all across America."
LES MILLS PUMP is available now exclusively through either TeamBeachbody.com or a Beachbody Coach. Starting in January 2012, LES MILLS PUMP will also be on sale through Beachbody.com and will be marketed through a nationwide TV campaign. LES MILLS PUMP includes seven workouts, the Lean, Strong & Unstoppable fitness guide, the Get Lean nutrition guide, and a barbell kit (complete with 5- and 10-pound weight plates).
Beachbody CEO Carl Daikler says his company's work with Les Mills is the perfect combination to help even more people get fit and healthy.
"There are few companies who have created the kind of exciting fitness programming that Les Mills has," says Beachbody CEO Carl Daikeler. "From the moment you see the LES MILLS PUMP program, you can tell it's going to work. That's the sign of a program that fits the Beachbody mission of helping people achieve their goals to lead healthy fulfilling lives."
About Les Mills International
Millions of participants every week build their fitness in a LES MILLS class. The 10 LES MILLS® group fitness programs, including BODYPUMP® and BODYCOMBAT®, are taught by 90,000 certified instructors in more than 14,000 licensed clubs around the world. From its base in Auckland, New Zealand, Les Mills renews each exercise-to-music program every three months with new choreography, newly licensed music, and updated instructor education. See www.lesmills.com
About Beachbody, LLC
Founded in 1998 by Carl Daikeler and Jon Congdon, Beachbody, LLC, operates Beachbody.com and TeamBeachbody.com.The Santa Monica, California-based company is the creator of the most popular at-home fitness and weight loss solutions in the U.S., including P90X® and INSANITY®. The Beachbody company mission is to help people achieve their goals and enjoy healthy, fulfilling lives.7 FAT-BLASTING, LEAN MUSCLE-BUILDING WORKOUTS
LES MILLS PUMP Basics
Learn how to assemble your barbell, adjust your weights, and get proper grip and stance techniques to get the most out of your LES MILLS PUMP workout program. (10 minutes)
–
LES MILLS PUMP Challenge
Start firing your muscles with fundamental resistance exercises so you can see visible results in no time. (20 minutes)LES MILLS PUMP and Burn
Feel the burn with "compound" moves that work several muscles at once to scorch fat and calories. The bigger the burn, the bigger the results. (30 minutes)LES MILLS PUMP and Shred
Start "shredding" while you build endurance and churn through fat stores with each repetition. THE REP EFFECT™ is in full effect here. (45 minutes)LES MILLS PUMP Revolution
Drive your heart rate up with quick tempos and big moves like power presses and power lunges. This is calorie-burning and lean muscle-building at its best. (55 minutes)LES MILLS PUMP Extreme
Weights won't be the only thing lifted here as you focus on intensity and targeted muscle training in this extreme workout. (55 minutes)LES MILLS PUMP Flow
Increase flexibility, decrease soreness, and improve your alignment as you stretch your entire body. (20 minutes)LES MILLS PUMP Hard Core Abs
Carve out your core and define your back with moves that hit your muscles from every direction. It's 360-degree training for your entire midsection. (20 minutes)I found this on the net – just in case someone is wondering about calories on the LM PUMP program
Get Lean Nutrition Guide
The Les Mills PUMP Get Lean Nutrition Guide is the official nutrition recommended for the Les Mills PUMP fitness program. Like all Beachbody nutrition guides it's full of pretty pictures, step by step instructions, and recipes.
The guide is broken down into three phases. The first is the seven day jump start. For the first seven days you follow a strict low calorie of 1200 calorie diet. It is complete with a meal plan for the seven days. But if you are like me and don't do well on such low calorie diet even for just seven days skip it and go straight on to Phase One of the nutrition guide.
One thing that I really like about all the phases are the quick and easy recipes. These are not recipes that will have you spending hours preparing but are recipes that are delicious and easy.
PHASE ONE – MIX 'N' MATCH YOUR WAY TO WEIGHT LOSS
Phase One starts by having you calculate the number of calories you need during Phase One. And no one regardless of weight goes below 1300 calories…NO ONE. The guide includes many food options to choose from when planning your meals.
PHASE TWO – FEED YOUR MUSCLES
In Phase Two you will start by once again reevaluating your calorie needs. In this phase you will be adding 200 calories of protein to your daily intake. And it couldn't be an easier to do since each recipe includes a "protein" boost option.
PHASE THREE-WHERE DO YOU WANT TO GO FROM HERE?
This is where the real flexibility of this nutrition guides comes into play. In Phase Three you are asked "Where do you want to go from here?". And how you answer this question will guide you to what do to next. There are three paths to follow from here.
PATH 1 – "Keep Chiselin" – You will either redo the 7 Day Jump Start and the continue on with Phase One or you will go straight to Phase One. You will drop the "protein boost" and recalculate you calories. OR you can stay in Phase 2.
PATH 2 – "Maintain Your New Look" – This is the maintenance phase. You simply multiply your current body weight as stated in the nutrition guide to determine your daily calorie need.
Screenshots