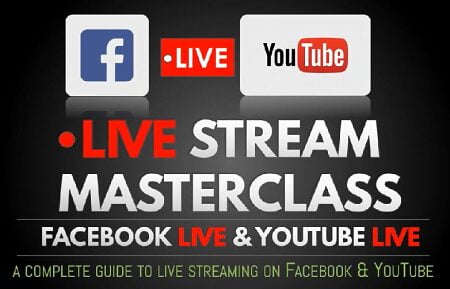 LIVE Streaming Masterclass- Facebook YouTube Instagram (2020) | Size: 701 MB
You Should have Facebook & YouTube Account otherwise you can create also!
What you'll learn
Learn to do Live Stream Professionally on Facebook Live & YouTube Live
Grow Your Business in 2020 with Facebook Live & YouTube Live
Grow Your Audience, fans, Subscribers or Sales with Live Stream
Save 1000s of Dollars on Paid Live Webinar services by using Free Live streaming Services YouTube Live & Facebook Live
Interact with Your Audience, Fans or Subscribers
Reach out to New Customers, fans or Subscribers
Requirements
Description
Live Stream Masterclass- Facebook Live-YouTube and Instagram Live 2020
Increase Your Audience Subscribers Fans & Sale with Live Streaming on Facebook & YouTube Live
Learn How to do Professional Live Streaming on Facebook -YouTube and Instagram with 100% Free Tools to Grow your Business or Audience in 2020.
Don't spend 1000s of Dollars on Paid Webinar or Live Streaming Services!
Start dong Live Webinar or Live Stream on Facebook Live & YouTube Live and Save 1000$ and Grow your Audience, Subscribers, Fans, and Sales of your Business.
Learn the step-by-step process of doing professional live streaming on most popular platforms with Free Resources without spending a dime.
This course shows you how you can use Free Software to do professional live streaming easily for bners.
Stop wasting and resources, start focusing on what you love, grow your business and audience easily with the live streaming.
Live streaming is the most engaging way to attract new customers or audience and engage the existing audience. You can increase your sales by 10x using Live Stream on Facebook or YouTube or Instagram.
Don't wait any further!
Enroll now!
Who this course is for:
Anyone who wants to Learn Professional Live Stream on Facebook & YouTube
Anyone who wants to Grow his Business in 2020
Anyone who wants to Grow his Audience, fans, Subscribers or Sales
Screenshots