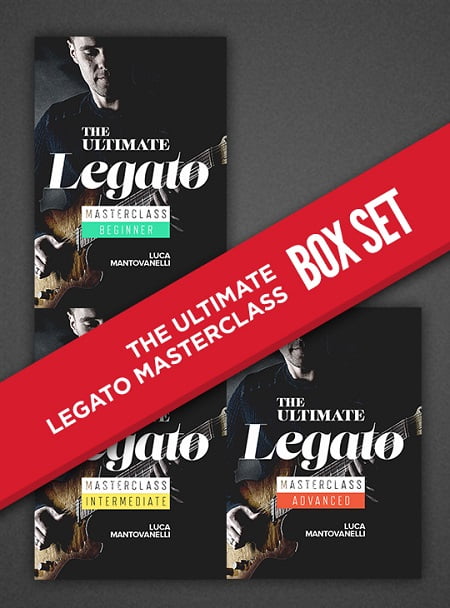 Luca Mantovanelli – The Ultimate Legato Masterclass & Complete Boxset
WEBRip | English | MP4 – MP3 – PDF Guides | 1280 x 720 | AVC ~1754 kbps | 25 fps
AAC 317 Kbps 48.0 KHz | 2 channels | ~2 hours | 2.83 GB
Genre: eLearning Video / Guitar lesson
Legato is an essential (and super versatile) technique for any aspiring modern guitarist.
Let the 'Jedi Master' of legato, Luca Mantovanelli, teach you how to become a powerhouse of the technique – just like him!This step by step course has everything you need to go from 'zero' to 'hero' in regards to your legato playing by guiding you methodically through increasingly difficult exercises and licks that will develop the control, dexterity and speed required to play smooth, consistent and flowing legato lines in your own jams.
Starting with the beginner pack you will learn the very basics of legato playing by learning several exercises that will start to build and develop the finger strength and independence you'll need for later in the course. You'll start using hammer ons and pull offs (in isolation and combined) with slides to start building up a basic repertoire of legato ideas, as well as ensuring that you have the fundamentals of consistent volume/dynamics, muting and accurate note placement. The playing in this pack is fairly simple in the grand scheme of things and is a great 'first stepping stone' to build the fundamentals and prepare you for the awesome legato lines you will be working up to later in the course!
The intermediate pack is where the bulk of the practise will happen! This volume will introduce tougher exercises, faster note subdivisions. Guiding you carefully into implementing more complicated legato phrases. Here you will refine and internalise your legato playing, working on making the technique start to blend more into your every day jams. This pack is full of very practical ideas that you can use on a daily basis. You will also work on using the techniques everywhere on the neck, ensuring that you are able to pull out your developing legato chops at a moments whenever the inspiration strikes! By the end of mastering this pack you will have a really solid grasp of the legato technique that's better than the average player, but we don't want to stop there. not when you're doing so well. So then it's onto the advanced pack where the real challenges happen!
Finally in the advanced pack we really crank the intensity up. This is designed to push and stretch your legato chops like never before and take your abilities to new found heights! Luca pulls out all the stops here, challenging you to add advanced sliding, hybrid picking, arpeggio ideas and string skipping to the mix. The material in this pack also features highly complex legato sequences, demanding complete control and flexibility in utilising and combining multiple techniques to create a seamless flow between notes, and between different playing techniques. If you can master all of the material in this pack with the groove and grace that Luca possesses then there really are no limits to how far you can take your legato technique! Also, get in touch with us, because we'd like to say hello to another player like that!
Each volume (beginner, intermediate and advanced) comes with its own respective masterclass PDF (where you will learn all of the lesson material and view the PDF TAB/Notation, diagrams and images), exercises designed to get you practising and developing the techniques and concepts, full licks where you will start using the ideas in a musical setting and finally a full solo where you bring everything together in an incredible full jam that uses all of the material from that package in a 'real world' setting that will help you dial in your playing and work on incorporating it smoothly into your current playing style! Lastly, we have the full backing tracks where you can use all of your new found technique and knowledge to create your own epic legato jams!
So what are you waiting for? We know you've been meaning to develop your legato technique for a while now and now we've finally given you everything you need to really take your legato playing to levels you previously thought were unachievable! Realise your potential and let Luca show you the way!
What you get:
3 Masterclass PDFs
125 Exercises (Video/Audio)
30 Full Licks (Video/Audio)
3 Full Solos (Video/Audio)
Lick Backings
Full Jamtracks
TAB/Notation