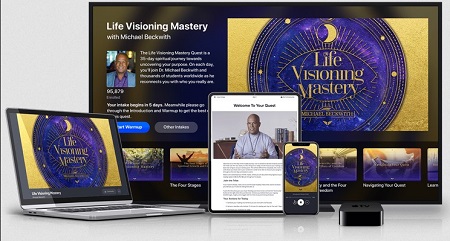 MindValey – Life Visioning Mastery – Michael Beck | 6.5 GB
Life Visioning Mastery
Become a Mindvalley Member, and unlock access to Life Visioning Mastery + Mindvalley's full curriculum of 50+ transformational programs for as low as $1 a day.
The Curriculum
Explore The Life Visioning Mastery Curriculum
The Life Visioning Mastery Quest is a 35-day spiritual journey towards uncovering your purpose. On each day, you'll join Dr. Michael Beckwith and thousands of students worldwide as he reconnects you with who you really are.
Dr. Beckwith is one of the preeminent spiritual teachers of our time – and this Quest is the next best thing to having a 1-on-1 consultation with him. In just 15-20 minutes a day you'll ascend through the four stages of spiritual awareness, gaining deeper clarity on your life vision and purpose with each passing day.
By the end of the Quest, the need to struggle and strive for goals become a thing of the past, and is instead replaced with a life filled with synchronicities – as you become fully aligned with your most authentic purpose.
Part 1 – Your Spiritual Roadmap
Part 2 – Stage One – Victim Consciousness
Part 3 – Stage Two – Manifestor Consciousness
Part 4 – Stage Three – Channeler Consciousness
Part 5 -Stage Four – Being Consciousness & The Life Visioning Process
HOmepage:
https://www.mindvalley.com/visioning
Screenshots