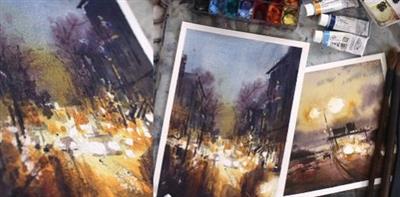 Painting Cityscapes in Watercolor: From Conception to Final Painting in Simple Steps
Genre: eLearning | Language: English
The focus of this class here today is to help you put the theories of landscape or cityscape painting into practice. A lot of the time. we learn about the fundamental concepts behind what makes a good painting but are not given sufficient examples to utilize them and apply them to our own paintings. This class serves to bridge that gap by showing you the entire process, from conception and reference photo, all the way to painting and finishing the entire piece.
By the end of this class, you will be able to paint one of the two paintings demonstrated, and be better equipped to tackle cityscapes on your own.
If you are starting out and would like a beginners friendly class, I have an 18 minute short class where I introduce watercolor from the very beginning while painting a sunset. You will learn techniques of how to create smooth transitions in watercolor, and control the water paint ratio.
Content Source:
https://www.skillshare.com/classes/Painting-Cityscapes-in-Watercolor-From-Conception-to-Final-Painting-in-Simple-Steps/228223462