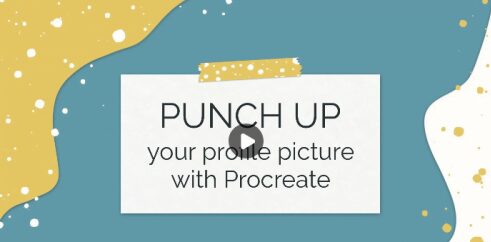 Punch Up Your Profile Picture With Procreate: Fun & Creative Profile Photos
Genre: eLearning | Language: English | MP4
You have a profile picture, right? Maybe you love it, maybe you don't, maybe you used to love it, but it's gotten stale. If you have a profile photo, this the class for you!
In this class, we'll remove the background of a photograph of you, isolating just you. Now you'll be free to put yourself in a brand new background! You can use a beautiful photograph from a free photo website like     Unsplash. You can doodle or draw, you can choose the perfect colors, and you can even add elements like beautiful flowers. This is my twin sister, Theresa. I gave her profile photo a makeover like one we'll do together in this class.
About me: I'm Kelley Bren Burke. I'm a digital artist and educator, living in Minneapolis, MN, with my husband and our 8 year old bulldog, Murphy.
I wanted to use a photo for my profile picture, but I didn't want to include my husband. I love him, but it's my profile photo, you know?
Content Source:
https://www.skillshare.com/classes/Punch-Up-Your-Profile-Picture-With-Procreate-Fun-Creative-Profile-Photos/821125309