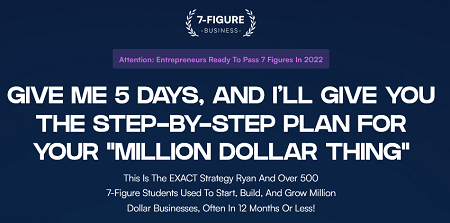 Ryan Moran – 5 Days To 7-Figures Challenge | 3.87 GB
INTRODUCING THE 7 FIGURES IN 5 DAYS CHALLENGE
– Leave with your own roadmap for success with clear, actionable steps to hit 7-figures in 2022
– Achieve better & faster results by avoiding the common, critical mistakes the other guys are making.
– Stop trying to figure it all out yourself. Build your million dollar brand with help from million dollar coaches who will lead you through 5 days of live calls
– Find the suite of products your customers crave, so you can take sales from day 1
WHAT YOU'LL COVER
DAY 1 THE FORMULA
Get the exact formula we've taught thousands of people on how to build a million-dollar brand.
DAY 2 WHO?
Get crystal clear on who your brand will serve. We'll dive deep into identifying your customer's pain points that you can solve and building meaningful relationships with them.
DAY 3 YOUR PRODUCTS
Now that you know who you'll be serving, you'll choose 3-5 products that you can sell with confidence.
DAY 4 LAUNCHING & SCALING TO 25 SALES PER DAY
"But how do I build a list? What if I have no marketing knowledge?" That's what everyone else is asking. But not you. because on day 4 you'll get our secret strategy for getting people talking about your brand right from the start.
DAY 5 Q&A
We cover a lot of ground in 5 days! On day 5, Ryan is answering your lingering questions, ensuring that you come out of this with an actionable plan that will make you unstoppable at growing your brand.
WHAT YOU'LL GET WHEN YOU JOIN
– Get access to a tried and true formula that has worked for thousands of entrepreneurs, and meet some of the entrepreneurs who have used it.
– 5 days of live mentorship calls lead by Ryan Moran where you'll build out your own brand's 2022 roadmap for success.
– Know that your product will be a winner before you ever take a sale. We'll share a tool we use to find out for sure exactly what your audience wants to buy before it's too late.
– Learn out how to turn your customers into raving fans. so that you can generate reviews and sales on demand.
BONUSES
MAKING YOUR PRODUCT, MADE EASY
Retail Value $3,000
Get our robust list of manufacturers and manufacturer directories so that you can get your product into the hands of customers ASAP.
NO MONEY?
NO PROBLEM
Retail Value $5,000
Getting funding has never been easier! Get strategies for funding your business, even if you're bootstrapping.
NO-FAIL IDEAS
YOU CAN STEAL
Retail Value $1000
No idea what you'd sell? We hand you five no-fail niches, complete with lists of products your hungry crowd will go crazy over.
WHAT PEOPLE ARE SAYING
Instagram User
Following your blueprint I sprung into action and generated pre-sale orders, a website, and influencers who are excited about the vision!
Jayant P.
In 10 days I sold 100 units and turned my $500 baby into a $3000 business. Right now my biggest problem is not the money. it's that I'm running out of inventory!
Ravi A.
I dropped out of law school and started my first online business. 10 months later we hit our first $30k month. Now, 2 years later, we are doing close to $1 million per month between my two companies
Kirk B.
I kicked off product 1 last month and product 2 this month. $277k gross and $86k net so far!
Homepage:
https://www.capitalism.com/5-days-7-figures-challenge/
Screenshots