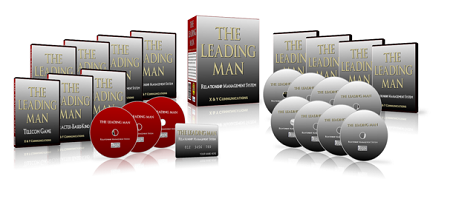 Scot McKay – The Leading Man Relationship Management System | 617 MB
– Could it really be true that you can date as many women as you want to on your way to finding the one greatest woman you've ever met?
– Can you really attract the highest-quality women on Earth and keep them attracted for as long as you choose?
– Best of all, is it possible to lock down the "revolving door" of women in and out of your life and take back control of your dating destiny?
– The answer to all of these questions is a resounding YES–and you're about to discover exactly why.
BEYOND PICKUP AND SEDUCTION — Finally.discover how to handle what comes after "Day Two". Be ready for "Day Three", "Day Thirty", or "Day Three Thousand".
AUTHENTICITY THAT ATTRACTS — Forget about wondering "what to do next" ever again. Say goodbye to dependence on routines, openers, or other "crutches".
ASSERT MASCULINITY — Be a real man who leads instead of a "social robot", and watch how powerfully women respond. Develop a genuine, masculine presence that is literally like catnip to women.
UNDERSTAND WOMEN — Don't believe the hype. Get inside a woman's head and discover the shocking truth about what drives them.
DATE MULTIPLE WOMEN — This isn't just about "getting the lay". This is about knowing what you want, enjoying a life full of amazing women, and recognizing the best of the best when she arrives.
RESOLVE CONFLICT — Prevent arguments before they ever even happen. Deal with minor grievances before they balloon into unspoken bitterness on a massive scale.
GIVE YOURSELF REAL OPTIONS — No pressure to conform to someone else's vision. Have the dating life you choose, with the goals to match–even if you truly want to find one great woman.
SKILLS WITH WOMEN THAT LAST FOREVER — Pickup techniquest have an "expiration date" with every woman you meet. Relationship management is an enduring skill set that reaps benefits for a lifetime.
TRUE CONTROL OVER YOUR DATING LIFE — Become the "chooser" instead of the "chaser". Be with who you want, for as long as you want.
EARN RESPECT FROM WOMEN — Be a man who women trust and follow. End all the "power plays".
ALWAYS KNOW WHERE YOU STAND — If you have to guess what's on her mind, you can guess she won't be sticking around for long.
FILL YOUR SCHEDULE WITH HIGH-QUALITY WOMEN — Forget going "back to the well" time after time in search of women who will ultimately disappoint you. Never go home lonely.again.
GET ONE GREAT WOMAN — Kiss the "revolving door" goodbye and make sure the greatest woman you've ever met is attracted to you instead of some other guy.
BE A MAN WHO LEADS — Have a plan and follow through. Never become like the "p-whipped" husband in a bad sitcom!
Still not convinced yet? Here's just a partial sampling of even more valuable secrets–all of which you can begin applying in your real-world interactions with women immediately, and all of which covered in detail within THE LEADING MAN system:
– The ONE THING women want most from a man. Understand this and you understand the "CROWN JEWEL" of understanding the opposite sex.
– One SMALL METAL OBJECT that can RUIN your ability to manage the relationship if a woman gets a hold of it. (Hint: It's NOT a wedding ring.)
– How to handle FEMALE PLAYERS without GETTING PLAYED.
– Secret ways that women "MARK THEIR TERRITORY".usually without you even KNOWING it's going on.
– The SILENT PERMISSION that using "techniques" and "openers" on women gives them.could you be CREATING YOUR OWN TROUBLES?
– What's conspicuous by its ABSENCE from a relationship with a great woman.even though you've probably considered it a "given" until now. (Hint: "arguing" isn't it.)
– What to do when she drops "I LOVE YOU" on you WAY TOO EARLY.and better yet, exactly how to PREVENT that from happening.
– Finally exposed: the ONLY TRUE DIFFERENCE between being friends with a woman and JUST being friends with a woman.
– The "HIDDEN COST" of buying women flowers and expensive dinners on first dates.
– Learn why most guys are KILLING THEIR CHANCES at HAPPY RELATIONSHIPS by focusing on pickup skill.and it's NOT the reason you think.
– How men who LACK relationship management skill DOOM THEMSELVES to "settling".before they EVEN KNOW WHAT HAPPENED.
– Two CRITICAL MINDSETS that every man must have from MINUTE ONE of any relationship with a woman or else deal with a "revolving door" FOREVER. Most men will never figure this out and will spend their ENTIRE LIVES wondering why they couldn't make a relationship with a woman last for more than a month or two.
– Why she brings up negative things OUT OF THE BLUE that happened MONTHS or YEARS ago.
– The one thing a man MUST DO if a woman is FALLING IN LOVE with him and he isn't ready to go exclusive.
– The ONE RELIABLE INDICATOR that decides whether you can SAVE A TROUBLED RELATIONSHIP or not.
– The "PICKUP" SKILL that is almost UNIVERSALLY TAUGHT by the biggest name "gurus", but which will SURELY KILL your relationships if misused even slightly.
– Practical STEP-BY-STEP INSTRUCTIONS for MEETING HER PARENTS and MEETING HER FRIENDS.
– Managing the relationship when there are KIDS IN THE PICTURE.yours, hers or BOTH OF YOURS.
– The TWO BIGGEST MISTAKES men make after a break up happens.
– The MASSIVE DIFFERENCE between how men and women tend to LOSE attraction for MOTOS (Members Of The Opposite Sex).and why you must understand it. (Hint: The 3-6 week mark in a relationship is ALL-IMPORTANT.)
– How to give a WOMAN the "JUST BE FRIENDS" talk.and exactly when to do it.
– The true PROS AND CONS of hanging out at HER PLACE vs. YOUR PLACE. Prepare to be shocked by what you hear.
– The one time when you must NEVER try to resolve a conflict with a woman.yet it's EXACTLY when most uninformed guys make their ONLY EFFORT to do so.
– One bold, counter-intuitive move that could SAVE YOUR RELATIONSHIP when an angry woman THREATENS YOU with an ultimatum.
– The NAIVE MISTAKE that almost EVERY MAN MAKES when he realizes he is in the wrong. If you don't know what it is, chances are you make this mistake CONSTANTLY.probably WITHOUT EVEN REALIZING IT.
Screenshots