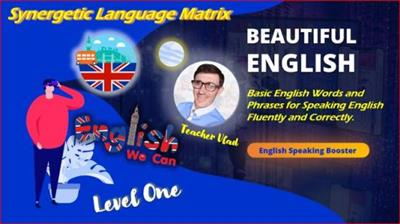 MP4 | Video: h264, 1280×720 | Audio: AAC, 44.1 KHz
Language: English | Size: 652 MB | Duration: 1h 27m
This Basic English Words and Phrases Level 1 Class is for beginners. You will continue practice speaking with our easy, beautiful and very effective speaking training tools that are built on the Synergetic Language Matrix (SLM). SLM enables our students to practice speaking in the same way they learned their native language in childhood. They don't need teachers and they don't need to learn grammar and words. The only things they need is to look, listen and repeat.
In this Level 1 Class, you will practice speaking with::
Demonstrative Pronouns (this, that, these, those)
Yes – No Questions with the Auxiliary Verb to Do
Grammar Construction "There is (are)"
Wh…. Questions
Question Word "What?"
Prepositions and Question Word "Where?"
What + Noun? Questions
To review the class learning material and get additional language skills, you will do speaking exercises and quiz. After completion the course you will:
Broaden your vocabulary
Be able to ask questions and answer positively and negatively
Be able to use demonstrative pronouns
Be able to make sentences with the grammar construction "there is (are)"
Understand how to make questions with wh…. question words
Be able to ask about a thing or a person quality, size and location
Be able to ask and to answer questions about your everyday life
My classes are different from other English classes because I teach speaking English. My goal is to teach my students to ask questions and to answer them correctly. It is the most important language skill that beginners should learn when they start learning speaking English.
So, what are you waiting for? Go straight to my class and let's get started.
Homepage
https://www.skillshare.com/classes/Basic-English-Words-and-Phrases-Level-1/637707177