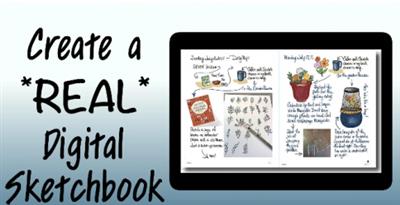 Skillshare – – Create a REAL Digital Sketchbook
Genre: eLearning | Language: English | Drawing & Painting| MP4
Yes, it is possible to keep a "real" sketchbook on your iPad. I am not talking about a collection of individual sketches created in an art-making app, but an actual book format that is almost exactly like your real world paper sketchbook. Except it is not made of paper, of course.
But in the end, it can be paper, because the entire book or parts of it can be exported as a PDF file or printed directly from your iPad.
This class is for everyone who wants to keep a sketchbook on their iPad. No prior experience is necessary.
You will learn the best app to use and how to use it to take advantage of the same processes used in a real world sketchbook – writing, drawing, painting and coloring, adding photos and ephemera, etc.
I have been keeping digital sketchbooks for  over ten years, and the process just gets better and better. These are not replacements for my paper sketchbooks, but companions to them. My real paper sketchbook content is often curated from my digital sketchbooks, because the digital ones make it easy to record everything on the go.
I have wanted to make this class for a long time, and now that the Apple pencil is here, the time is right to share how much a digital sketchbook is like a paper sketchbook – with some extra tricks that you can't do in a paper sketchbook – like adding audio and rearranging pages.
Content Source:
https://www.skillshare.com/classes/Create-a-REAL-Digital-Sketchbook/1384887730?via=search-layout-grid