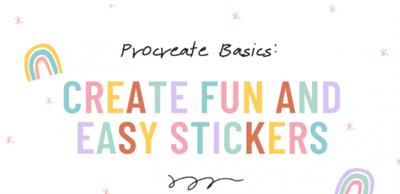 Skillshare – Procreate Basics: Create Fun & Easy Stickers
Genre: eLearning | Language: English
Unleash your creativity and create simple & illustrative stickers using a stress-free process on Procreate.
Ever wonder if you could turn your art into stickers? But didn't know where to start? It's easier than you might think, so stick around and I'll show you how. Through creating a themed set of simple illustrative stickers, you'll learn the basics of procreate and I'll share with you my process of working non-destructively using layers and masks.
IN THIS CLASS YOU'LL LEARN HOW TO:

Create a color palette to suit your project.
Organize your brushes for a better workflow.
Create from our imagination using quick shapes and the drawing assist.
Use layers and masks to add shadows and textures.
Work non-destructively, all that means is working in a way that gives you the possibility to go back and easily change things.

And of course, I will show you the simplest way to create your stickers at home without the need of an expensive die-cutting machine and how to outsource them to an online company.

Content Source:

https://www.skillshare.com/classes/Procreate-Basics-Create-Fun-Easy-Stickers/1353622470