Start Your Photography Business: A Photography Course by Video School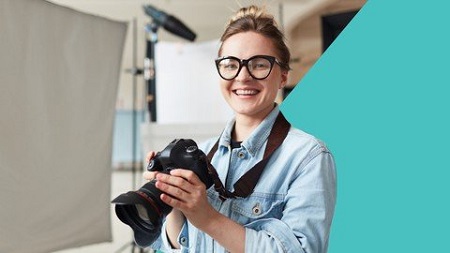 Start Your Photography Business: A Photography Course
Last updated 8/2022
MP4 | Video: h264, 1280×720 | Audio: AAC, 44.1 KHz
Language: English | Size: 7.00 GB | Duration: 6h 1m
A step-by-step guide to launching your own successful photography business!
What you'll learn
You will learn everything you need to start a successful photography business
You will learn best practices for each step of a photography gig – from booking the client to final delivery
You will learn business basics such as registering a business name, getting a business license and tax ID, and choosing a structure
You will learn how to set prices, what equipment you need and how to find your first clients
You will learn how to create a website and portfolio that gets you more clients
You will learn how to expand your online presence with Instagram, Facebook, Google, Yelp and more
You will learn how to set up a proper business with accounting, insurance and tax tips
Requirements
You should already have a basic understanding of photography (this is not a course that will teach you how to become a photographer).
You should be ready to put in enough time and effort to grow your own business (this is not easy and will take time)
You do not need any business experience, we'll show you everything you need to get started
Description
You want to make money with your photography, right?This is the perfect course to help you launch your own photography business, and we're so glad that you're here.We've created a complete blueprint to every aspect of running a successful business, and it's all here in this course.
From the business side of things like registration, licenses and taxes to the marketing side of things like getting your first clients, creating a website and setting prices, you'll learn it all with this course.Once you enroll, you'll get access to a downloadable workbook that includes action items, helpful tips and resources. Using the workbook together with the courses video lectures and case studies should make it easier than ever to get your business up and running.You'll have your business up and running in no time!What do we cover in this course?
Kinds of photography businessesChoosing your business name & structureBusiness registration, tax IDs, licenses and bank accountsBuilding a business websiteSetting your pricesDesigning a portfolio that sellsEquipment you need to get startedHow to get your first paying clientsGetting listed on Google Maps and search resultsExpanding your online presence with modern marketing techniquesTips for every step of a paid photography shootScaling your businessand so much more!Our goal is that by the end of this course, you'll have a photography business of your own. If there's anything we can do to make this course better for you, just let us know. As instructors we will continue to update this course with any latest skills or practices that will benefit you.Our happiness guarantee…We have a 30-day 100% money back guarantee, so if you aren't happy with your purchase, we will refund your course – no questions asked!We can't wait to see you in the course!Enroll now, and we'll help you start a photography business of your own!Phil & Will
Homepage
https://www.udemy.com/course/photography-business-course/
Screenshots