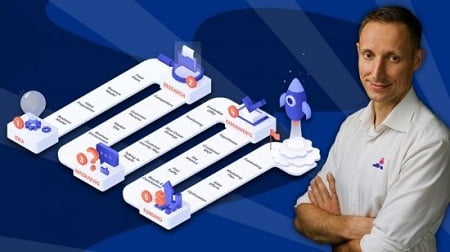 Startup Fast Track – Confident Launch in 90 Days or Less | Size: 13.4 GB
Validate your startup idea, build a list of waiting customers, and get paid, even if you have nothing to sell yet!
What you'll learn
Define your startup business model in 20 min or less
6 main risk types and 4 simple strategies to handle them
How to estimate your target market size using top-down and bottom-up methods
10 slides for your 3-min pitch deck to grab and hold attention of investors
2 in 1 system: learn and build your startup by doing practical tasks
How to use value proposition design framework in practice
How to analyze your competitors and use Blue Ocean strategy to make competition almost irrelevant
How to calculate fixed and variable costs, cash-burn rate, break-even point and need for investment
3 levels of value proposition and the formula of irresistible offer
Profit hacking formula and 18 traffic sources for the long run success
5 essential steps how to make your interviews with potential customers really valuable
16 lead magnet types to build a list of customers even if you don't have a product yet
Market research fundamentals to eliminate guess work and be confident in your business decisions
5 main hypotheses every startup should check and 17 types of MVPs that could be used for that
Define your ideal customers and improve your business using customer journey map
16 monetization models your startup could use to earn revenue
How to build a combined MVP to check multiple hypotheses at the same time and in cost effective way
How to prepare your marketing plan on 1 page and build a viral loop to increase your startup chances for viral growth
How to avoid vanity metrics and measure what really matters (AARRR metrics)
How to design and actually build your lead or sales funnel
14 sales weapons and sales plan framework to win B2B clients
7 main reasons why most startups fail in sales and how to avoid them
Requirements
No pre-requisite knowledge is required
Experience in digital marketing will be helpful but not necessary
Description
This comprehensive course shows the way how to build a business model around your innovative idea (product or service) and get initial traction without having to put high stakes at risk. It's not just another video course, it's a proven step-by-step system based on the research of 1,447 startups. It shows the way how to create, validate, and implement your whole business model.
If you are 100% focused on developing your startup and have no time for other stuff, this course is definitely for you! I've designed it as a 2 in 1 system: you learn by working on your startup! Short video lessons explain the very essence and give you practical tasks that you'll have to do by working on your own startup.
Top 10 things you'll LEARN in this course:
Shift from the guess & try method to a proven system used by successful founders.
Build your startup in a faster and safer way with less investment.
Save your time, money, and nerves by doing the right market research.
Create value and irresistible offer for your customers.
Use landing pages and marketing funnels as your MVP.
Know when it's time to make a pivot or even abandon your idea.
Get highly valuable customer testimonials even before the launch.
Prepare your go-to-market strategy and launch your product on a budget.
Prepare your business for scaling and take it to the next level.
Increase the value of your startup without even investing in production.
Top 10 things you'll CREATE by doing practical tasks:
Your MVP ready for testing, even if you don't have a product yet.
Your first lead funnel to drive initial traction and even paying customers.
Feedback on how to improve your product and make it amazing.
The concept of product or service that customers love and are ready to pay for!
Initial leads that can be converted into customers.
An automated system to onboard new leads and convert them.
Marketing plan that is ready to go once you have the final product.
Clear and validated (market-proven) business model.
Less stress by following actionable steps and using professional templates, swipe files, and tools.
Status of a successful startup founder who got the product-market fit in a fast and smart way.
By taking this course
You will be able to estimate the potential of your startup and craft a sustainable business model around it.
You will find out how to identify and manage risks, save time, money, and your energy creating profitable products and services, as well as increasing the likelihood that customers will enjoy them.
You will understand what insights and assumptions you need to check and what are the most appropriate ways to do that.
You will also discover the formula of an irresistible offer and will know how to make competition on price almost irrelevant to you.
This course will reveal how to improve your sales economy, even if you haven't started selling yet. You will be able to effectively launch your product or service into the market, and get ready for scaling and the next investment round.
Who this course is for:
Startup founders and anyone interested in building a successful startup
Entrepreneurs who have ideas or are already in the middle of a project
Small business owners who want to test their new business ideas before building
Marketers looking to test new products or create new sales funnels without significant spending upfront
Product Managers who don't want commit on new products or features without evidence of demand
Anyone trying to minimize the risk associated with their new venture
Anyone looking for new skills in the realms of entrepreneurship and marketing
Screenshots