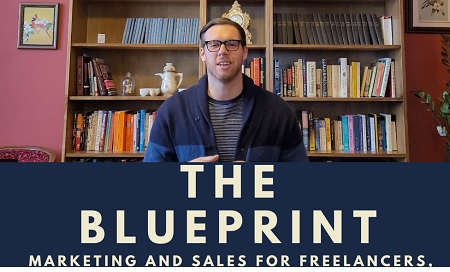 Stefan Palios – The Growth Blueprint For Freelancers | 11 GB
The Blueprint for freelancers, coaches and entrepreneurs is filled with proven systems, scripts, and templates that help independent entrepreneurs, coaches, and freelancers find ideal clients, only do the work you want to do, and have total control over your schedule as an independent entrepreneur. In just 6 weeks, you'll have the resources, frameworks, and live support necessary to easily and rapidly scale to 6-figure revenues.
1. LEARN THE PSYCHOLOGY OF SUCCESS FOR INDEPENDENT ENTREPRENEURS: Realize that you are a problem solver and solution provider for your clients and learn the only three things that matter when it comes to attracting closing ideal clients.
2. MARKETING, POSITIONING, AND FUNNEL CREATION TO ATTRACT IDEAL CLIENTS (ORGANICALLY): Get ideal clients knocking your (digital) door down, asking to work with you at any price.
3. UNEARTH THE SECRET WEAPON TO CLOSING MASSIVE DEALS QUICKLY: Three strategies for making calls with potential clients easy, comfortable, and stupidly effective.
4. GET THE RIGHT TOOLS IN PLACE TO SAVE YOU TIME SUPPORT YOUR GROWTH: Build assets within your business that do the heavy lifting for you.
5. GET ANSWERS TO ALL YOUR QUESTIONS WITH LIVE SUPPORT AND COMMUNITY: You are not alone in this journey. Get personal support from me and from a community of like-minded independent entrepreneurs.
Homepage:
https://www.thegrowthblueprintcourse.com/
Screenshots