Substance Painter to Unreal Engine 5 Masterclass by 3D Tudor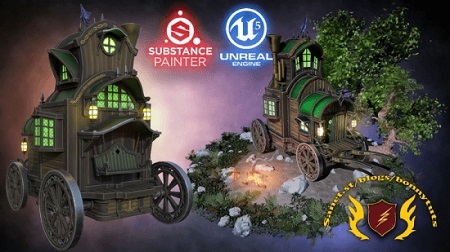 Substance Painter to Unreal Engine 5 Masterclass
Published 06/2022
MP4 | Video: h264, 1280×720 | Audio: AAC, 44.1 KHz, 2 Ch
Genre: eLearning | Language: English + srt | Duration: 81 lectures (14h 43m) | Size: 15.7 GB
Description
Substance Painter to Unreal Engine 5 Masterclass
Learn how to create game assets in Substance Painter & Unreal Engine in this all in one masterclass
Would you like to learn how to create a stylized scene featuring a bushy tree and a wagon with rocks and foliage adorning a romantic evening scene?
'Master the Art of Substance Painter & Unreal Engine 5' will see you creating an intricate stylized wagon showcased within a campfire scene that breathes life through design and animation.
It's going to be a stylized wagon. Yes, a bit of my inspiration comes from typical gypsy wagons but we are going for a steampunk design with ours.
This course will give you access to just over 16 hours of 3D art.
Learn how to build an intricate Unreal Engine 5 (UE5) scene in 79 lessons.
This course will see you learn all the techniques pros use and how they use them. Unreal Engine integration will also be a central part of this course's learning objectives.
Through reading this course description you will find out:
– Your next 3D art, texturing, and environment game design milestones;
– What you are going to get through 'Master the Art of Substance Painter & Unreal Engine 5', and;
– How the course will take your professional texturing and game design skills to the next level.
Join this course and come be part of a game design and professional texturing journey of over 16 hours of learning.
Course Resources & Freebies
So, for a start, we have the download pack. We are starting here because the course is a 2-in-1 deal. The first part of the course covers Substance Painter, and the second part focuses on Unreal Engine 5 (UE5).
What is even better than freebies?
We have designed the course in such a way that you can choose which part you want to get stuck into first!
The 'Master the Art of Substance Painter & Unreal Engine 5' course resource pack includes a pre-built stylized wagon asset, 48 unique UE5 texture maps, 10 textured stylized rock variations, 2 tree models with stylized bark textures, 13 stylized alpha stamps to customise the wagon with foliage PBR atlas texture maps. 2 PBR seamless textures for terrain, and 3 audio effects for background sound mixing.
Within the 'Master the Art of Substance Painter & Unreal Engine 5' download pack, you will find all of the models and textures to jump into any part of the course you choose. You can go through the complete Substance Painter texturing part or head right on over to UE5 straight away.
Check out the free introduction and I am sure you won't be able to put this course down!
Texturing and Materials
This course is one of the most up to date out there and will be using the latest tech to bring you cutting-edge content with the 3D industry and this includes 3D texturing.
Learn all about UDIM map workflow and why it is such a game-changer. 'Master the Art of Substance Painter & Unreal Engine 5' will also focus on the foundation of 3D modelling which includes UVs and the mapping process. A massive part of the course is devoted to setting up your models correctly. High and low poly workflows and not forgetting optimizing your assets to create triple AAA level models.
Develop a professional workflow as we start from the very basics of Substance Painter up to advanced techniques used in the gaming industry. Learn all about projection painting to add details that will drastically cut down on 3D modelling time.
As part of 'Master the Art of Substance Painter & Unreal Engine 5' you will:
– create smart materials from scratch
– build up layers with masks, filters, and generators
– use baked lighting techniques
Best of all, we will only be using Substance Painter's default materials. You will not need any outside resources to create your very own materials.
Lighting & Renderin
By joining 'Master the Art of Substance Painter & Unreal Engine 5', you will also learn how to take control of your scene's aesthetic lighting.
We will take an in-depth look at lighting and rendering in Substance Painter.
Learn all about the powerful rendering techniques that will make your 3D models pop. You will find out about things like emission maps, bloom, shadow depth, and ambient occlusion to name a few.
Unreal Engine 5: Game Engine Integration
We will be taking a deep dive into Epic's all-new Unreal Engine 5.
Through 'Master the Art of Substance Painter & Unreal Engine 5' you will learn the basics of bringing your game assets to life, rendered in real-time.
We will look at how to import and use textures created specifically for Unreal Engine and use them to create the materials for our stylized wagon game asset. 'Master the Art of Substance Painter & Unreal Engine 5'will also be an introduction to setting files to create a clean UI. The skills you learn here are fully transferable to all of your future builds.
You will also find unique Unreal Engine 5 (UE5) on-screen tooltips to enhance your learning experience as they pop up exactly when you need them to give you a full introduction to the software.
In the beginning, you will be learning all about how to import and set up your 3D models correctly in UE5. You will also learn how to create virtual textures for our UDIM UV maps.
As we progress through the course, we will be tackling more difficult aspects of UE5. I will be showing you how you can create and set up your very own foliage complete with individual animations. We take a look at transparency and setting up materials as well as vertex weight painting to bring them to life.
We will be adding particle systems to our scene to add ambiance from simple fireflies hovering around the wagon lamps to more complex particles like fire embers.
And just when you thought we couldn't fit any more into 'Master the Art of Substance Painter & Unreal Engine 5', we will also be covering nanite – the all-new simulation system in UE5. This will help you in the future bring any of your 3D environment scenes to life by adding fire and smoke setups with ease.
And finally, lighting, sky domes and volumetrics will also be covered as we near the end of the 'Master the Art of Substance Painter & Unreal Engine 5' course. This will make sure you have a complete understanding from start to finish of how to set up your UE5 scenes unleashing your potential to create your own amazing 3D art environments.
Still unsure? Here are my best 6 points about the new exciting things you will be learning about through this class:
1. Using UE5 Niagara particle system to create fire simulations and fireflies;
2. Creating foliage with motion from scratch and using Speed Tree;
3. Material creation for foliage, terrain, and more (i.e., Speed Tree material customization, in-engine texture adjustments).
4. Texturing a stylized asset using UDIM technology
5. Adding custom decals as asset textures
6. Rendering asset in Substance and creating an environmental presentation video in UE5
In the end, you will come away with the knowledge and the skills to create this stylized wagon scene from scratch. So, come give us a try and be blown away by just how much you can achieve from one course.
Until next time, happy modelling everyone!
Neil – 3D Tudor
Homepage
 https://www.udemy.com/course/substance-painter-to-unreal-engine-5-masterclass/ 
Screenshots