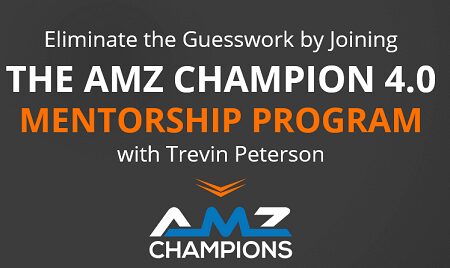 The Amz Champion 4.0 Mentorship Program 2021 – Trevin Peterson | 19.0 GB
100+ in depth tutorials taking you from A to Z! ($2,000 Value)
Watch 12+ HOURS of content breaking down the exact
steps to build a successful Amazon FBA Business in 2021.
You will also have access to 25+ PDF Guides and Templates.
The Amz Champion Course is a ONE-TIME payment with LIFETIME Updates. Amazon is constantly changing so I will be continuously updating and adding videos and tools to maximize your success rate!
HERE'S WHAT YOU GET INSIDE THE AMZ CHAMPION PROGRAM
100+ Tutorials with Over 12 Hours of Content
+ Module 1: Understanding Amazon FBA
+ Module 2: Seller Central Account Set Up
+ Module 3: Building A Long-term Amazon Brand
+ Module 4: Understanding Product Research
+ Module 5: How to Destroy Your Competition
+ Module 6: Mastering Product Research
+ Module 7: Verifying Products
+ Module 8: Finding Suppliers & Making First Order
+ Module 9: How to Create Effective Product Listings
+ Module 10: Amazon FBA Champion Product Launch (new)
+ Module 11: Mastering & Understanding AMAZON PPC
+ Module 12: Marketing & Advertising
+ Module 13: Scaling to 6 & 7 Figures
+ AMZ CHAMPION BONUS CONTENT
Homepage:
https://amzchampions.com/sales
Screenshots