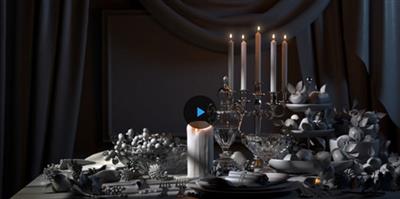 Video: MPEG4 Video (H264) 1920×1080 29.97fps 227kbps | Audio: AAC 48000Hz stereo 128kbps
Genre: eLearning | Duration: 240 mins | Language: English | File size: 849 MB
There are some absolute essentials you need to know when tackling lighting in CG. This 5-hour workshop by Adrien Vallecilla sheds light on everything you need to be aware of when lighting 3D environments, particularly if you're looking to become a successful lighter or look-dev artist working in digital production.
The workshop kicks off with fundamental lighting theory, discussing the core differences between real-world lighting and CG, as well as how to recreate natural phenomena using 3D tools. In this case, Adrien teaches using Maya with Redshift, however, the theory can be applied to other 3D packages and rendering engines. You'll learn how to set up convincing lighting, how to optimize your lighting and rendering settings, plus Adrien also details the key differences between rendering with CPU and GPU engines to help you transfer your knowledge to your tools of choice. The lecture concludes with a look at compositing all of the lighting passes rendered from Redshift inside Nuke.
The Maya Environment Scene file, HDR image, and Cryptomatte file are provided with this workshop. Links to the models featured by Adrien can be found below. You can also use your own 3D models to create a still-life scene while following along with the theory and practice taught.
Homepage
https://www.thegnomonworkshop.com/tutorials/lighting-look-dev-essentials-vol-1-lighting-theory