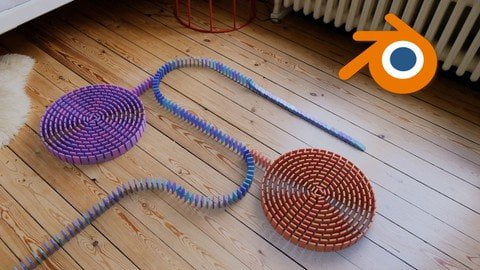 The Impossible Domino Run in Blender
Genre: eLearning | MP4 | Video: h264, 1280×720 | Audio: AAC, 48.0 KHz
Language: English | Size: 6.23 GB | Duration: 8h 20m
Master Blender's motion tracking, modeling, rendering and compositing toolset to create an impossible domino run
What you'll learn
Create an entire 3D scene and integrate it to live footage in Blender
Track a shot, create a 3D scene, and integrate it
Description
In this Blender tutorial we will create an impossible domino run in a child's room!
I love dominoes, but I am too clumsy to try the beautiful run that you can see on the internet. But I'm not clumsy in a 3D software and I chose Blender to create this scene that defies the laws of gravity!
Blender is the FREE software that everyone is talking about. Being free is not its most interesting feature. What is really great is that you can do EVERYTHING in a single software.
Indeed, we will track our scene, model the dominoes, render them, composite them and even add the sound without opening another software! No need for After Effects, Photoshop or even Paint to make the whole movie.
This tutorial covers all the steps you need to get the final result you can see in the video :
Tracking the entire scene in Blender
Modeling our domino
Several techniques to distribute our dominoes and make them tumble…
Using simple copies, modifiers, drivers…
With Animation Nodes, the amazing free addon from Jake Luke that can turn Blender into Mograph
Building the scene using the very powerful tools seen previously
Rendering our shot, using Cycles, the excellent Blender render engine
Texturing of the dominoes to make them as realistic as possible
Compositing the shot inside Blender
Removing the tracking markers with the compositor
And to calibrate our scene without ever leaving Blender
This tutorial is of an intermediate level, but remains accessible to motivated beginners.
Blender is free to download and to use, for anyone.
I will soon release a complete series of tutorials on Blender to learn everything from scratch.
I use several addons in this scene, all free to use and available on the net.
As always, all the step-by-step tutorial files are provided.
I remain at your disposal in the chat rooms for all your questions.
See you soon in Blender!
Who this course is for:
3D artist wanting to expend their skillset
3D artist willing to know more about tracking, rendering and compositing