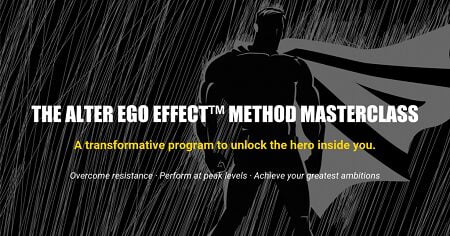 Todd Herman : The Alter Ego Effect Method Masterclass | 4.75 GB
GET RESULTS YOU NEVER THOUGHT POSSIBLE – THROUGH YOUR SECRET IDENTITY.
For high-achievers like you, it's next-level frustrating to look at your results and know they don't truly reflect who you are.
You know you can achieve great things. You know you have the talent, the drive, and the desire. But something keeps getting in your way and is keeping you from operating at your best.
You're ready for more intentionality. You want to make choices consciously and take control in high-impact moments, so everything you've trained, practiced, and worked for, shows up brilliantly on your Field of Play.
WANT TO GET CLEAR ON WHAT'S HOLDING YOU BACK?
In most cases, it's your own doubts, worries, stories, and judgments that become so overwhelming. They effectively keep you from achieving your most ambitious goals. A single frustration or problem can stop you in your tracks and leave you wondering what went wrong.
The natural reaction is to try and push through. To devise a plan and force yourself to come at your goal head-on and push through what's holding you back.
But if you want to face challenges with grit, make choices with intentionality, and accomplish goals with grace, you can't meet force with force. It's a losing battle.
Why? Because your unconscious mind is far more powerful than your conscious mind. What you need is a reliable game plan to get out of your own way, so you can:
– Take that winning shot
– Secure a lucrative deal
– Deliver an outstanding performance
– Stay calm under stress
– Navigate a difficult conversation
– And more.
The good news is you already have a superpower inside of you to help you achieve your greatest ambitions: your creative imagination. It's time to unleash it.
Your creative imagination
is key to overcoming resistance
Remember playing pretend as a child?
Maybe you called on your inner Olympic gymnast to swing across the monkey bars. Or you became a famous chef when baking a batch of cookies. Or you transformed into a news reporter to give a school presentation.
As we grow up, we forget the power of our own imagination. We're told the act of "playing pretend" is childish.
It's not. In fact, that idea is dead wrong. There's a whole lot of wisdom within your natural creative imagination.
Those secret identities (or "Alter Egos") are still there, sitting on the bench, waiting for you to activate them.
BRING YOUR ALTER EGO TO LIFE
This self-guided Masterclass builds upon the ideas laid out in Todd's WSJ bestselling book, The Alter Ego Effect™. With 4 in-depth modules that show you how to build and leverage your Alter Ego, you can elevate how you show up in the most important areas of your life.
Module 1
Course Overview & Introduction to The Alter Ego Effect Method
Module 2
Choose Your Field of Play & Name the Enemy
Module 3
Create Your Extraordinary World & Identify Your Superpowers
Module 4
Build Your Alter Ego & Take It to the World
Screenshots