TOTAL: CompTIA PenTest+ (Ethical Hacking) by Total Seminars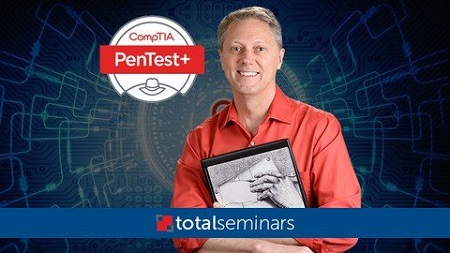 TOTAL: CompTIA PenTest+ (Ethical Hacking)
Updated 06/2022
Genre: eLearning | MP4 | Video: h264, 1280×720 | Audio: AAC, 48.0 KHz
Language: English | Size: 9.72 GB | Duration: 121 lectures • 14h 43m
From Total Seminars: Michael Solomon on ethical hacking & high-level penetration testing. Hack like a pro.
Description
Mike Meyers and the Total Seminars Team, your source for best-selling cybersecurity courses, brings you this ethical hacking and penetration testing course with your instructor Michael Solomon, Ph.D., CISSP, PMP, CISM. Prepare for the CompTIA PenTest+ PT0-002 exam.
This is NOT a boring voice over PowerPoint course. Michael speaks to you and presents the material in an engaging interactive style that will keep you interested and make it easier to understand. Check out the free sample lectures and you will see the difference.
We've added 2 bonus Practice Tests. One practice test covers the EC-Council Certified Ethical Hacker CEH certification exam. The other practice test covers the CompTIA PenTest+ certification exam. Test your readiness to pass either of these industry ethical hacking certification exams.
With 30+ years of experience in security, privacy, blockchain, and data science, and an energetic presentation style, Michael takes his proficiency in network penetration testing and consolidates it into this informative and engaging course.
What you'll learn
Includes 2 Bonus Practice Exams. We have added a CompTIA PenTest+ Practice Test and a Certified Ethical Hacker CEH Practice Test.
How to plan and scope a penetration test as a contracted pen tester for a client (as an ethical hacker, you'll be the good guy and get paid to hack networks!)
How to work within a virtual environment to practice your pen testing skills, including using Oracle VM manager, Kali Linux, Metasploitable, and DVWA
Where to find vulnerabilities and how to penetrate a network in order to run exploits, then how to report those vulnerabilities to the client for remediation
How to gather intel on a network by scanning and enumerating (finding) targets, then searching out the weak points on those targets
Understand social engineering attacks, exploit network-based vulnerabilities, and intercept traffic via on-path (man-in-the-middle) attacks
How to use pen testing tools like Nmap, Nessus, Nslookup, John the Ripper, Immunity Debugger, Aircrack-NG, Wireshark, and many more
How to write reports, explain post-delivery activities, and recommend remediation strategies to your client
Requirements
There are no requirements to take this course, nor are there any requirements to sit for the CompTIA PenTest+ exam, however, basic familiarity with networks and network security is suggested
It's recommended to be familiar with the information in the CompTIA Network+ and Security+ exams
Although this course is a CompTIA PenTest+ exam prep, it's also designed for a broader audience, so those without much network security knowledge can still gain valuable information on pen testing and ethical hacking
WHY SHOULD I TAKE THIS COURSE?
Did you know penetration testers' average salary is $71,929?* And this career is in one of the fastest-growing job markets.
Whether you're looking to pass the CompTIA PenTest+ certification exam, take your next step in the CompTIA Cybersecurity Pathway, or you're just looking to learn some awesome ethical hacking skills, you're in the right place.
Keep in mind there's much more to being an ethical hacker than what's covered here, including how to secure a network, however this course focuses on how to be a pen tester. A pen tester plans and scopes a pen test engagement with a client, finds vulnerabilities, exploits them to get into a network, then reports on those findings to the client.
This course shows you how to
Use the tools you'll need to scan networks, crack passwords, analyze and intercept traffic, discover code vulnerabilities, and compromise resources
Recognize vulnerabilities within a system, run exploits, and suggest solutions to a client to remediate the weak points
Work within a virtual environment to practice your pen testing skills, including using Oracle VM manager, Kali Linux, Metasploitable, and DVWA
Scope, plan, and execute a pen test engagement from start to finish
Who this course is for
Anyone interested in ethical hacking, pen testing, vulnerability testing, and network security
Anyone looking to prepare for the CompTIA PenTest+ (PT0-002) exam
Security Analysts, Network Security Ops, Application Security Vulnerability Analysts
Homepage
https://www.udemy.com/course/ethical-hacking-and-comptia-pentest-exam-prep-pt0-001/#instructor-1
Screenshots