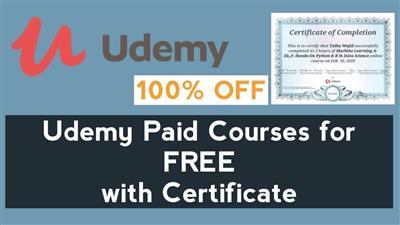 Created by EduGantt PM Training| Last updated 6/2021
Duration: 2h27m | 7 sections | 33 lectures | Video: 1280×720, 44 KHz | 1.68 GB
Genre: eLearning | Language: English + Sub
Practical guide to project health monitoring and Earned Value Management (EVM). – PMP & CAPM Training – 5.5 PDUs
What you'll learn
How to distinguish yourself as a project manager.
The essentials of monitoring and control.
Earned value management techniques and how to effectively incorporate them into your monitoring strategy.
Effective EVM reporting techniques.
EVM metric interpretation.
Effective project health monitoring methods.
How to control your project and eliminate scope creep.
How to ensure project success.
Templates for the most effective status reporting methodologies.
Effective project monitoring and control communication strategies.
Practical examples and exercises on the course content.
Much more!
Show more
Show less
Requirements
Internet access and a phone, tablet or PCEagerness to learnDetermination to work through the entire courseBasic knowledge of project management (It will help, but it is not a must. The knowledge you learn here will help you immensely regardless of your current level).
Description
MASSIVEDISCOUNT:Get this course at a 91.3%discount – Apply the following coupon code:EDUGANTT35 (Valid until 31 July 2021)
n
Project management is an extremely intricate field and requires you to have knowledge in several technical areas of expertise. The 5 process groups ranging from project initiation to project closure are all very important pieces of the overall puzzle and you will need to master them all to distinguish yourself as one of the best project managers.
Depending on who you talk to, they may have different ideas on which of the process groups should be considered more or less important than the others. One thing that all those who are well versed in the field project management agrees on though, is the fact that exceptional project management is about delegating the actual project work and focusing your energy, as the project manager, on monitoring and controlling the health and status of your project. This is where you make the BIG difference, and where you catch the eyes of the client and upper management.
This course was designed to arm you with the essential knowledge you require to understand project health monitoring and the pivotal role it plays in project success.
The course covers all the project health monitoring essentials. We will also be looking at the importance of proper monitoring and control and how you can effectively and efficiently incorporate good Earned Value Management (EVM) practices into your monitoring strategy. We will also be working through some guided practical examples and you will have a chance to apply what you have learned on a few practical exercises. The course also places some emphasis on good control measures and we will work through guidelines that will help you effectively implement change control procedures. The course ends of with an assessment that will not only help you gauge what you have learned but also test you in a practical setting.
Furthermore we will also be sharing some project health reporting templates and pre-programmed Excel sheets that you can use and adopt for your own projects.
The course design caters for those who already have the foundational knowledge of project management and are familiar with the PMI project management methodology. Beginners are however welcome to take it up as well, as the course is structured to add value to all project management professionals.
If you are new to project management we suggest you take a look at our Project Management Fundamentals course before you take this one.
Who this course is for:Aspiring project managers looking to kick start their career in one of the fastest growing professions in the world.Beginner project managers looking for a comprehensive overview of project management.Intermediary project managers looking to build up toward the required 35 PDU's for PMP registrationAny PMI certified Project Management Professional who wants to earn PDU's towards registration renewalAnyone who wants to improve on their project management efficiency.Project managers looking to further develop their skills.Project administrators, clerks and expeditors looking to take the next step and transition into project management.