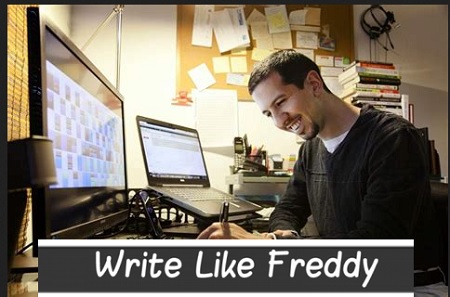 Danny Iny – Write Like Freddy | 232 MB
"I will teach you how to write great posts, get them published anywhere you want, and get the traffic, reputation, and sales that come with it – without having to be a great writer!"
Writing is a cornerstone of marketing for most businesses today.
This is especially true if blogging is part of your marketing plan – and for a lot of small businesses, the fact that it's free almost means that it has to be!
And the fact of the matter is that you can't grow a blog without writing.
You have to write great stuff on your own blog, and you have to write great stuff on other major blogs, too.
That's exactly how I grew Firepole Marketing.
I started about a year ago, with zero online reputation, and zero traffic (in fact, my first guest post went live on Copyblogger on January 10, 2011).
Since then, I've written over 80 guest posts that have almost all performed exceptionally well.
I'm Giving You a Comprehensive, All-Inclusive Training Program
It's very important to me that my clients get results, and that the people I train get the very best training possible (and that they are able to write as much as they want and need so they can have the biggest impact on the world and their communities).
And since my reputation is on the line (and I'm an "all or nothing" professional) I wouldn't dream of giving you anything less than a comprehensive, all inclusive training program that covers all of the bases you need!
As someone once said, "If something is worth doing then it's worth doing right!" I couldn't agree with that more.
After spending days reviewing all of the requests that I had received, and combining them with what I think it takes to write great post, I finally came up with…
The "Write Like Freddy" Training Program!
The "Write Like Freddy" training program includes four training modules that will teach you how to quickly and easily write kick-ass blog posts that people will want to read and share.
I won't just teach you how to write – over the course of four weekly lessons, I will take you step by step through every stage of the process, from choosing a target blog, to coming up with an idea, to writing an epic post, to getting the most possible mileage out of it, from beginning to end.
All classes are delivered via high-quality, pre-recorded videos (as well as MP3 audios, PDF slides and transcripts), along with worksheets and other supporting materials.
Here is a look behind closed doors…
The Curriculum Includes:
– – How to find the very best places to publish your posts (to get tons of traffic, build a great reputation, and make lots of sales)
– – What the three criteria are for deciding whether to post on a blog, or whether you're better off not wasting your time
– – How to come up with a winning angle for your post, every single time (even if it's your first time writing for a new audience!)
– – How to know that your posts will perform well and be shared, before you write a single word
– – How to write guest post proposals that will get accepted on major authority blogs, even if you don't have a relationship with the blog owner
– – How to choose a headline that will make people read your post – even if you aren't a writer!
– – How to outline an entire post in less than 10 minutes (this is the same process that I use on ALL of my posts)
– – How to make sure that you don't run out of ideas, and your posts are always "meaty" and full of great content and information
– – How to write posts that makes people want to print them out and put them on their walls! (that's the best compliment a blogger or writer can get, and you'll get it a lot!)
– – How to control when a post will be published on somebody else's blog (and stay out of the limbo of not knowing when or whether your post will be published)
– – What steps to take after your post has been published to get waaaay more mileage out of it (it amazes me that nobody thinks to do this!)
– – How to get extra SEO "link juice" out of your guest posts on authority blogs
– – How your guest posts can help you build relationships with the entire blogosphere (without having to write a ton of posts!)
And you'll have the benefit of my expertise and experience to answer every single one of your questions along the way!
Screenshots