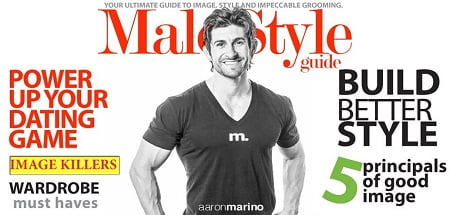 Aaron Marino – Alpha Man Style Tips | 3.71 GB
Aaron Marino of alpha m. is giving you tips that will instantly improve your style.
This easy-to-follow guide literally walks men through every aspect of personal grooming, wardrobe selection, dressing your body type, and much more; taking the guesswork out of creating the man you long to be. Marino's exquisite insight has helped countless men improve their image by giving them the necessary tools needed to succeed in today's world – a world with high standards and fierce competition.
Whether it's your personal or professional life that needs improvement, you won't be disappointed with the results you will instantly get from his tips.
"As a whole, we as men have done a poor job in terms of analyzing our image and personal presentation. Is it that we just don't care about how we come across? I don't think this is the case. I believe it is an inability to look at ourselves through the eyes of others. One of the toughest things a person can do is look in the mirror and analyze themselves with a critical eye.
Image is so much more than what you see in the mirror from the chest up. Image is the entire presentation or package that you are bringing to the table and the world. The way you put yourself together, and the way in which you carry yourself, is paramount to just wearing a cool pair of shoes. Remember, image is the collection of the nonverbal cues and communication you convey, day in and day out.
Some cues or habits are so engrained in your movements and psyche that you wouldn't be able to identify them if you were hard pressed to do so. Others are easily identifiable and changeable, such as your hairstyle. Yes guys, your hair is communicating to people! Other non verbal communication includes, but is not limited to: grooming, wardrobe, eye contact, posture, hand shake, smell and even your breath."
Homepage:
https://iamalpham.com/
Screenshots