Bitcoin Trading With Simple Price Action Trading Strategy by Petko Zhivkov Aleksandrov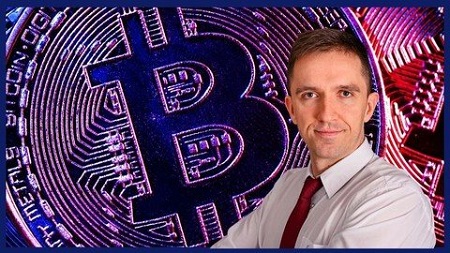 Bitcoin Trading With Simple Price Action Trading Strategy
Last updated 10/2021
MP4 | Video: h264, 1280×720 | Audio: AAC, 44.1 KHz
Language: English | Size: 1.82 GB | Duration: 2h 45m
Description
Bitcoin trading is what I am specialized in, and I will teach you how to do it with a simple Price Action Trading strategy.
When I do Bitcoin trading, I have the chance to profit when it is going up and when it is going down. It is not the case that I will buy and wait for months. My trades last between a few hours to a couple of days, and I take quick profits.
Hello! My name is Petko Aleksandrov, and I am the Head Trader at Trading Academy. In this Bitcoin trading course, I will teach you how to recognize the best moments to enter the market and the levels where you should take the profit.
I will demonstrate to you my system for price action trading with Bitcoin. You will see trading examples that will help you understand practically the system. No boring slides and presentations, only real trading examples.
Why is it better to do Bitcoin trading and not invest in Bitcoins?
Bitcoin, together with the other cryptocurrencies, showed that it is not one way to heaven. In 2018 the cryptocurrency market crashed.
When we do Bitcoin trading, we can profit in both directions – we can benefit when the price goes up, and we can profit when it goes down. This means that it does not matter where the price is.
With this price action trading system, you will learn when to join the big trend, which with Bitcoin is always very strong. It is essential to catch the right moment, and not to be late. At the same time, you should not hold the positions too long because the profit might be gone.
What will you learn in this Bitcoin trading course?
how to recognize the major trend and trade in the same direction
see the first signals that the price gives us to open the trades
what are the impulsive breaks, and how to take advantage of them
diversify the risk on three different entries to increase the profitability
make profits quickly as a professional trader
stick to a precise system and follow it in 100%
avoid the emotions when trading with exact rules to follow
Price action trading allows the traders not to depend on the lagging indicators that most people use. The right moment to enter is fundamentally essential in manual trading, and an exact trading system is a must.
No prior experience in Bitcoin trading is needed – with my price action trading system, you will be able to open trades with confidence, and I will teach you how to practice it.
I have selected to use Bitcoin as a trading asset because it shows the most volatility, and great results could be achieved. However, the trading system is suitable for any trading asset that you wish to trade.
Who is the instructor?
My name is Petko Aleksandrov, and I am a professional trader. The recent years, I have specialized in Bitcoin trading because this asset gives a lot of possibilities. It has the volatility a trader needs, thousands of dollars in moves, and already there are many platforms, brokers, and exchanges where it could be traded.
I have thought over 20 000 traders in the last two years, and I am pretty happy to see that most of them accept and use my trading strategies. The one I am demonstrating in this course works the best for me because it uses price action trading, representing market behavior. I will teach you how to read it and how to apply it.
Why did I decide to create this course?
I like recording my Bitcoin trading because this way I share it with thousands of traders
when others test the strategies, I receive feedback, and this way, together, we succeed to improve it
It is great to meet new people, share ideas and techniques, this way, everyone profits
I am very open to any questions. I answer all inquiries within, so do not hesitate to drop me your question.
Of course, if you think that this is not the right trading strategy for you, you can always use the 30-days money-back guarantee.
Enroll now, and I will help you improve your Bitcoin trading!
Enjoy the course!
Homepage
 https://www.udemy.com/course/bitcoin-trading-price-action-trading-course/ 
Screenshots