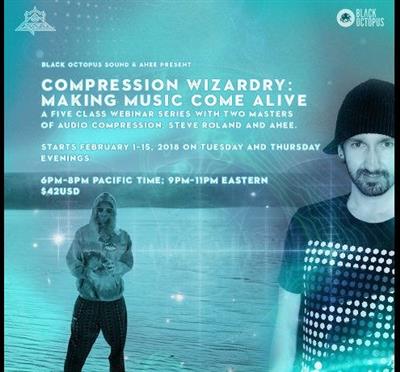 Black Octopus Sound – Compression Wizardry
Genre: eLearning | Language: English
Join two world class producers, engineers, and sound designers on one of the most tricky components of music production, compression. We have an absolutely brilliant, life changing class that is guaranteed to improve your music immediately. These expert producers are also master teachers who have brilliant teaching models to help make compression make perfect sense.
This class was recorded live. This purchase gets you the complete recording of the entire 5 class course, approximately 10 hours of of compression instruction, plus all course materials/templates/samples.
Bring your compression skills up to a 9 or 10 as we dive into:
– When and why to use compression (and when not to)
– Working each knob/parameter with deliberate skill
– Using compression not only as a mixing tool, but as a ridiculously wicked musical instrument that will breathe life into your music
– Different types of compressors and how to know exactly what type of compressor to use in a variety of situations
– Adding punch, phatness, and dynamics to your everything
– Creative and innovative ideas on how to use compression for extra musicality
– Compressing drums, bass, vocals, busses/groups, and entire mixes
– Upwards vs downwards compression, Ableton's OTT, and Mid/Side compression
This webinar series is being taught live so you also get:
– welcomed into our micro community that we're creating
– networking/connections
– insights from other people asking important questions
– relationship building with two successful music producers
As a bonus you also get:
– Presets and templates (and education on how to use them) designed by Ahee himself
– All of the course handouts demonstrated in the class for your ongoing reference
аbout: Black Octopus Sound Compression Wizardry
File Name:Black Octopus Sound Compression Wizardry
Content Source:
https://blackoctopus-sound.com/product/compression-wizardry/