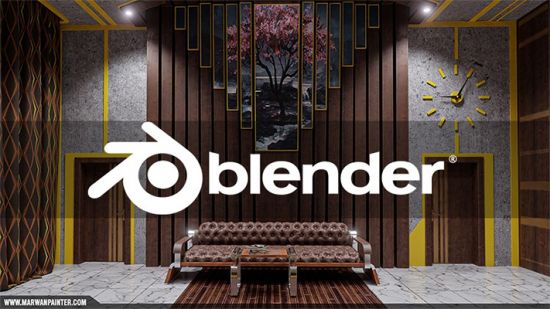 Blender: How to create realistic BedRoom with Cycle & Eevee
MP4 | Video: H264 1920×1080 | Audio: AAC 48 kHz 2ch | Duration: 15h 56m | 20.2 GB
Genre: eLearning | Language: English
In this Blender course I will show you how to create realistic Bed Room from start to finish with cycles and eevee
Are you one of the people who seek to achieve a realistic Render with Blender? Did you try to start and suddenly you had many problems while modeling? Did you think that Blender is not intended for interior or exterior design ?
well, too many people think that and I don't know where they got that concept. If you have experienced problems like this or were similar to them, let me hold your hand and take you on a journey through the world of this course.
First, let me introduce myself, I am Marwan Hussein, I worked in the 3D field for more than 10 years, and during this time I gained many skills that qualify me to place courses. I can say that they are very useful courses for everyone who wanted to learn new skills.
In this course, we will learn how to prepare the scene and directly we will enter the modeling world, where we will be modeling all the details in the scene, and during our journey in the modeling, we will learn how to deal with fabric and how to simulate it.
We will learn how to make curtains, how to make bedding, and we will learn to use the new brush that was recently added to the Blender in order to create a real, attractive-looking fabric.
After the modeling trip, we will learn how to place the lighting, we will simulate the external and internal lighting and we will take the scene to the important level to which is to apply the materials on the geometry
We will take care of this aspect until we come up with real results that every Blender user seeks.
after that, we will prefer the whole scene to render it with Cycle and we will learn how to achieve realistic render results with that.
when the render is finished we will use Blender compositor to post-process the final result and not just that, we will take these images to Photoshop to post-process them, so if you like to work with Photoshop you got it.
and after that sure, we will switch to Eevee, with Eevee we will have a nice reader result, and yes we will discuss the necessary options that you need to achieve nice render results with this render engine.
The course did not stop there, but after this, we will learn how to make a camera animation so that we make beautiful videos shoot that make your design looks provisional using Eevee renderer.
https://www.udemy.com/course/create-realistic-bedroom-with-blender/