Easy And Profitable Macd Trading Strategy by Crilex Trading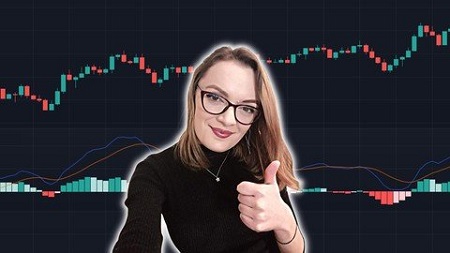 Easy And Profitable Macd Trading Strategy
Published 6/2022
MP4 | Video: h264, 1280×720 | Audio: AAC, 44.1 KHz
Language: English | Size: 2.69 GB | Duration: 2h 20m
Description
What do you use to understand Financial Markets? Are you adding indicators over indicators and you end up more confused than before?
What if I told you that you can become consistent profitable opening only a few trades per day?
What if I told you that you can turn one of the most common indicators into a powerful and easy-to-use tool in order to make consistent profits by trading Financial Markets?
Welcome to the Easy and Profitable MACD Strategy course
My ultimate goal for this course is not to teach you another indicator that you can have on your chart. My goal is to provide you with a logical strategy that you can apply to trade the markets with confidence. Therefore, in this advanced trading course you are going to learn my day trading strategy which can be easily adapted for swing trading using a higher timeframe and proper Stop Loss adjustments.
To achieve this goal, I will dedicate 7 Sections where you will understand any single component required in order to understand the strategy and to take an edge on the market. This will allow you to understand when and how to use the Strategy, being able to differentiate between different market scenarios, finding the best opportunities to trade and make money trading Forex pairs as EURUSD, USDCAD, GBPUSD, USDJPY, AUDUSD, GBPJPY or any other pairs you wish to trade.
Due to the fact that this is an indicators based strategy, I have added some filters in order to avoid the fakeouts, therefore we are going to combine the indicators with candlestick trading, chart pattern trading and Fibonacci trading.
If you had the chance to see my Youtube Channel, you know that I like to keep things real. A strategy that helps only to analyze the market, without having a deep focus on Stop Loss and Take Profit, is not a complete strategy for me. So, my promise is to give you a complete strategy with a whole Section about Entry and Exit points, in order to understand how to open and manage your trades.
We are going to analyze the markets using Tradingview and after that, I will explain you how I calculate, execute and manage my opened positions in Metatrader (MT4 and MT5).
All the examples provided in the course are about Forex pairs, but I am confident that you will find the material very useful for other Financial Markets, like Stock Trading, Cryptocurrency Trading and many others. Also, you can easily switch to algorithmic trading and to automatize the strategy.
What else in this course?
– This is the Strategy used the last year in order to pass an FTMO Challenge
– You will learn from my 4+ years of experience.
– You have unlimited lifetime access at no extra costs.
– You will have unlimited access to directly contact me via Telegram, where I will be available to answer all your questions related to this course. This is a huge opportunity to accelerate your learning curve!
– I have refined my trading skills based on the prop firms requirements, therefore, if you want to pass a Challenge as FTMO or My Forex Funds, this is the best and safest way to achieve this goal
– New lectures will be added to the course constantly at no extra cost to you!
– 30-day money back guarantee no questions asked.
If you are reading this, it means that you are a proactive person, who desires trading skills improvement, and I am sure that all your efforts will pay off. Enroll in the course and let me welcome you to your journey of becoming a consistent profitable trader!
It's your time to be a consistent profitable trader :)
Requirements
– Desire to learn and achieve your goals!
– Basic understanding of Forex Trading
– Motivation to maximize the return on your trading account
– Even a new trader with very little understanding of technical analysis can understand this Forex Trading Strategy and can be profitable after learning it
HOMEPAGE
https://www.udemy.com/course/macd-strategy/
Screenshots