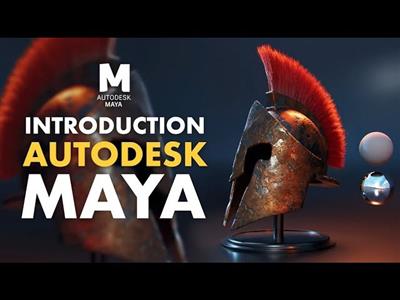 Video: MPEG4 Video (H264) 1920×1080 60fps 1622kbps | Audio: AAC 44100Hz stereo 129kbps
Genre: eLearning | Duration: 13hr+ | Language: English | File size: 4.3 GB
With over 12 hours of high quality training, you'll learn everything you need to know in order to get started with Maya! We're looking at topics like 3D modeling, retopology, xgen, rigging, shading techniques, lighting and using Arnold for rendering.
ABOUT YOUR INSTRUCTOR
Your instructor, Henning Sanden, has worked in Maya for a decade. During his film experience, he's worked with Maya on movies such as Alien Covenant, Pirates of the Caribbean, Venom, Pacific Rim: Uprising, Batman V Superman – and many more! The techniques shown in this series are based on his career in film.
PROJECT BASED
We believe it's important to learn both how the tools work and also how to actually practically use them. The spartan helmet project is a 3.5 hour long real time series where you can easily follow along. We cover setting up image planes, making an industry standard 3D model, advanced shading techniques, grooming with Xgen and finally lighting and rendering everything with Arnold.
SKILL LEVEL
Introduction to Maya is the perfect series for beginners and advanced artists alike! If you're interested in learning Maya, this is the series for you no matter what level you're at. We cover tools and concepts which beginners will love and more advanced techniques which advanced artists can add to their arsenal.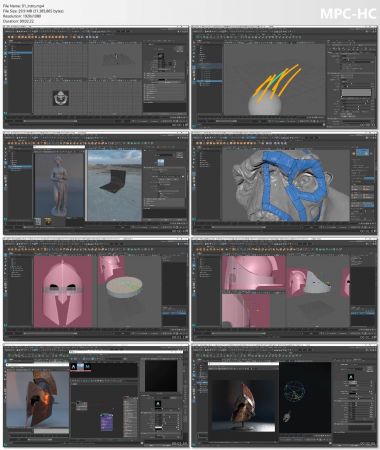 CHAPTER LIST:
Part 1 | Learning Maya
01 – Intro[/center]
02 – Interface Overview
03 – Navigation
04 – Saving
05 – Outliner
06 – Maya is Node Based
07 – Channel Box & Attribute Editor
08 – Customizing Maya
09 – Custom Shelf
10 – Custom Hotkeys
11 – Marking Menus
12 – Hotbox
13 – Creating Primitives
14 – Moving, Scaling and Rotation
15 – Component Vs Object Mode
16 – Selection
17 – Hiding Isolation
18 – Understanding History
19 – Modeling Tools
20 – Subdivision
21 – Sculpting
22 – Soft Selection
23 – Curves
24 – Pivots
25 – Snapping
26 – Deformers
27 – Blendshape
28 – Booleans
29 – Duplication
30 – Imageplanes
31 – Retopo Basics
32 – Retopo Head
33 – Uv Mapping Basics
34 – Uv Mapping Head
35 – Transfer Uvs
36 – Setting The Project
37 – Relative vs Absolute Path
38 – Importing Exporting
39 – Display Layers
40 – Fixing Common Issues
41 – UI Scene Management
42 – Xgen
43 – Animation Basics
44 – Animation Cogs
45 – Parenting
46 – Constraints
47 – Joints
48 – Weightpainting
49 – Rendering Basics
50 – Assigning Shaders
51 – Understanding the Shader
52 – Displacement & Bump Mapping
53 – Render View
54 – Hypershade
55 – Essential Nodes
56 – AVOs
57 – Render Settings
58 – Lighting
59 – Hdri
60 – Camera
Part 2 | Spartan Helmet Project
01 – Image Planes
02 – Model Blockin 01
03 – Model Blockin 02
04 – Model Blockin 03
05 -modeling Top Piece
06 – Sculpting
07 – Xgen
08 – Shading Environment
09 – Making The Shaders
10 – Shader Blend Displacement
11 – Hair Shading
12 – Pedastal Modeling
13 – Lighting
Homepage
https://flippednormals.com/downloads/introduction-to-maya/