Forex Trading Course: Money Management + 10 Forex Robots by Petko Zhivkov Aleksandrov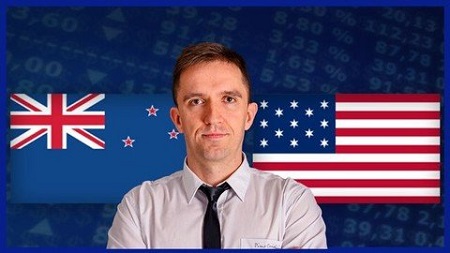 Forex Trading Course: Money Management + 10 Forex Robots
Last updated 2/2022
MP4 | Video: h264, 1280×720 | Audio: AAC, 44.1 KHz
Language: English | Size: 1.32 GB | Duration: 2h 24m
Description
A forex trading course is a must before going into algo trading. It is risky if you do not follow good money management. In this Forex course, you will get 10 Forex Robots for NZDUSD, and you will learn how to manage an algo trading account.
Looking for the right proportion between a Forex trading account, several strategies, and lots to trade? This course will teach you how to calculate the risk correctly in your account, and I will tell you the maximum risk when trading. Something that the other instructors do not share.
My name is Petko Aleksandrov, and I am a professional Forex trader with over ten years of experience. I had tested so many different methods and strategies during the years before I figured out that algo trading and Expert Advisors(Robots) are the best possible way to trade on the market without stress.
As well, my experience in Forex manual trading helped me create thousands of profitable Expert Advisors. Of course, to trade with many strategies, I need to have a precise money management Forex strategy, which I will share with you.
In this Forex trading course, I will share my Top 10 NZDUSD Experts that I use currently, and I will teach you how to trade with them.
You will receive the 10 Expert Advisors for FREE! No extra charges. More, I will attach the source code for MetaTrader 4 and MetaTrader 5. For beginner traders, that is the most popular trading platform where you can trade manually and automatically.
No trading experience or programming skills are required to use these 10 Robots. I am going to show you step-by-step how to use these 10 NZDUSD Expert Advisors. Also, I will share the complete process I follow and how I succeeded in creating so many strategies for my trading courses. The secret is that I use professional software to design, analyze, and automate the strategies into Expert Advisors. I will demonstrate it to you, so if you want to create your own Forex Robots, you can do it (a 15-days free trial that you can take advantage of).
I have selected the KIWI (this is how NZDUSD is called) as a currency pair because it is stable. It does not have huge fluctuations on the Forex market, which are common with the other currencies. In all my courses, I include EAs for different currency pairs so everyone can build an excellent portfolio of different strategies. This way, you will be able to achieve better diversification and more stable results.
What will you learn in this Algo trading Forex trading course?
How to trade simultaneously with 10 Expert Advisors for NZDUSD
Proper Money management Forex calculation and you will know your risk.
Step-by-step guidance for the beginner traders to use Forex Robots
How to follow the results in the trading account precisely.
Test on a virtual account so you will not risk any real money
Decide which Expert Advisors to trade on a live account.
Different methods to select the strategies for live trading
You will learn the complete process I follow in my daily trading.
Regardless of your level of Forex trading experience or how long time you have been trading, this course will give you a deep understanding of algorithmic trading and how easily we can create EAs without IT skills. You will receive a lot of value by getting these 10 Forex Robots on your side.
Why do I trade with many strategies? Why do I not include just one Forex Robot but 10?
The truth is that every trading strategy has moments of stagnation. And this is the reality. So when I trade 10 strategies with Expert Advisors together in one trading account, I successfully diversify the risk. When one strategy is in stagnation, the others compensate for it.
This is the real deal. This is how you can achieve stable results in a volatile market nowadays. It took me a long time to figure it out, and in this course, I will share it with you. I will explain how each strategy behaves, what to expect, and the absolute risk in the trading account. I will share with you the worst-case scenario. Something that other instructors do not do. They will show you only the profits.
Who is the instructor in this Forex Trading course?
I am Petko Aleksandrov, and in 2016 I established the first Algo trading Forex Academy, where I teach traders how to trade with Expert Advisors without programming skills. We are traders. We do not need to learn to code. We need to trade. This is what I wanted, and I found the best method.
In the first year, I had over 10 000 students joining my courses, which gave me a lot of energy and possibilities to develop my strategies, more trading systems, and my team behind my back, improving the work. Nowadays, I am dedicated to teaching as much as Forex trading. The two things match perfectly for me. When I share the strategies with thousands of people, they give me a lot of feedback. It is like I have a vast team to trade with. This way, together, we improve the methods more and more.
There is no risk if you take this Forex course. There is a 30-day money-back guarantee, and if you find out that this is not your trading system, you can always use it. No questions asked.
If you are already my student, you will know that I am always here to assist you. If you have any questions, do not hesitate to write to me, I always answer within 12 hours.
Enroll now, and get my Experts to improve your Forex trading.
Cheers!
——————————————-
Some reviews from the students:
Robin Lundberg
I really like how he explains, and for me, it is a completly new way of approaching trading. Petko has brought me a new set of tools to make my portfolio more "robust" and are quickly eable to adapt my strategies with just a few steps. Great course! Keep it up.
Homepage
 https://www.udemy.com/course/money-management-forex-top-10-nzdusd-eas/ 
Screenshots