Forex Trading For Beginners Course + 40 Robots Monthly by Petko Zhivkov Aleksandrov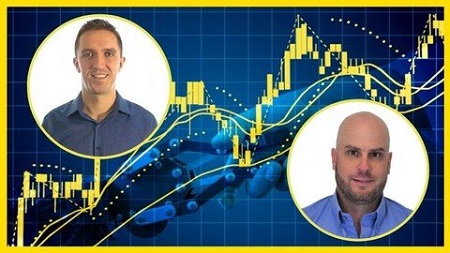 Forex Trading For Beginners Course + 40 Robots Monthly
Last updated 6/2022
MP4 | Video: h264, 1280×720 | Audio: AAC, 44.1 KHz
Language: English | Size: 1.40 GB | Duration: 1h 45m
Description
Forex trading is so much more comfortable with Robots. Learn how to trade with a portfolio of 40 Robots like a pro.
Is Forex trading for beginners what you are looking for? Then this might be the perfect course for you!
Forex trading has changed so much over the past few decades. Algorithmic trading has taken over global trading, and this leaves most beginner traders frustrated because most of the online forex trading resources have let people down, and failed to produce the promised profits.
Fortunately, all is not lost. This course will teach you everything you need to know to start algorithmic trading with Robots. And every month we will give you 40 NEW Robots that you can use for your trading. This is our job as professional algorithmic traders, and we are happy to share our years of knowledge and experience with you!
Hello traders! This is Petko Aleksandrov and Ilan Vardy, algorithmic traders from EA Forex Academy. We trade on the Forex market with hundreds of Forex Robots. We create and test them, and we will share with you 40 Robots in this course which you can download as resource files. Moreover, we do our best to improve them as market conditions change.
Forex trading for beginners is so much easier nowadays because online trading platforms allow retail traders to use robots. Unfortunately, very few beginner traders know about this type of trading, and most jump blindly into the market trying manual trading, driven by emotions and desire to profit. Over 95% of people lose their capital in the first month. By taking this course, you will learn what you need to do, step by step so you will be in the successful and profitable 5% of people that don't lose, and we will put you in the group of winners, which is less than 1% of all traders.
Why 40 Robots and not just one?
Every robot is an automated Forex strategy. And every experienced trader knows that each strategy has profitable and unprofitable periods as market conditions change. But when 1 or 2 strategies get into an unprofitable phase. The others compensate for it. This is called risk-diversification. So having a portfolio of Forex strategies is the best way to participate in the market. But the only way to do it is with Robots – not manual trading.
We will teach you how to use the trading platform MetaTrader, which is most suitable for algorithmic trading. It is absolutely free and you will see how easy it is to download and install on your computer at home.
There is no risk to you because you will learn how to test these 40 Robots on a virtual account so you will not be risking real money. However, when you feel ready and confident in your skills, you can use the Robots for live trading and use them to profit.
What will you learn in this Forex trading for beginners course?
How to start trading from scratch with professional tools
The Forex basics (which are crucially important if you are a beginner trader)
The easiest way to compare different brokers and select the right one
How to install the Robots on MetaTrader and test them
What conclusions to draw for yourself after the tests
Our complete Forex trading for beginners course teaches you how to create strategies and automate them without the need for any prior IT skills. You will learn how to use the strategy builder EA Studio which is a professional tool for algo traders (there is a 15-days trial period which you may use to practice).
The course curriculum includes Full HD videos, attached PDFs, resource files, and practical activities that will help you improve your trading skills while learning. Forex trading is a serious business, and this is why we have shared our years of experience to give you the right skills to get started with just one course.
By the end of this course, you will know what to do before risking any real money on the market. Most beginner traders realize the need to learn and practice after they have lost their hard-earned money. So you are in the right place, and you will be ready to start algo trading after completing this course.
You'll also have a portfolio of 40 New Robots every month, which will make this course your resource for new strategies that were created for current market conditions, and are updated as market conditions change.
So by the end of this Forex trading for beginners course, you'll have a thorough understanding of:
What is Historical data and why is it so important
The impact of choosing the right trading broker
Strategy builders and how to use one
Trading with many strategies as Robots to build a portfolio
Risk diversification and small drawdowns while trading
So don't waste any more time with manual trading – We will teach you how to trade with Robots, and you'll see how easy it is
Consider the benefits of automated trading – you can travel, spend time with your family, do the things that bring you joy, all while your robots trade for you
Enroll now, and we will see you inside the class!
Petko Aleksandrov & Ilan Vardy
………………………………..
What our students had to say after completing the course:
"The course was very well structured. Can't believe I went through it in one go. Now comes the hard part… to implement my knowledge. Thank you Petko & Ilan." – A. AB
Homepage
 https://www.udemy.com/course/forex-trading-beginners-course/ 
Screenshots