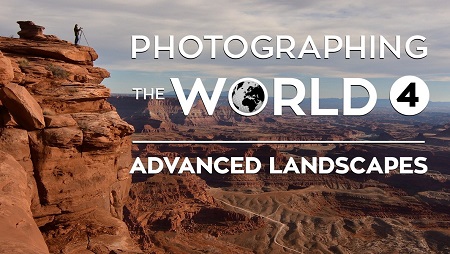 Fstoppers – Photographing the World 4 – Advanced Landscapes | 20.6 GB
Since its inception, the Photographing the World series has taken photographers to some of the most beautiful locations around the world with landscape photographer Elia Locardi.
Part educational photography tutorial video and part cultural adventure, Photographing the World has not only showcased some of Elia's most popular shooting and photo editing techniques but it also lets you experience the life of a full-time photographer who has made an incredible career out of travel and landscape photography. Fstoppers is excited to bring you the next extended adventure in the Photographing the World series as we head to the red deserts of the western United States and the exotic mountains of Patagonia in South America.
Meet Elia
Elia Locardi is an internationally acclaimed professional travel photographer, Fujifilm Global Ambassador, writer, public speaker and highly experienced educator who spends his life shooting some of the most beautiful locations in the world. Since he began traveling full-time in 2009, he has visited more than 65 countries, flown nearly 2 million miles, and collaborated with major companies, brands, countries, NGOs, and tourism agencies on nearly every continent.
What's Included In The Download
– 14 1/2 Hours of Video Content (1080p, 23.9fps, H.264 mpg4, over 20GB of material)
– 15 On Location and Studio Post-processing Lessons
– Full RAW files and companion software catalogs so you can follow along (Lightroom catalogs and Photoshop PSDs)
– 10 Behind the Scenes episodes of our experiences traveling and filming this tutorial
– Private Elia Facebook Group access for extended education and photo sharing
Topics Covered In This Tutorial:
Elia's Latest Camera Gear Including Medium Format
– How to Deal with Inclement Weather
– In-Camera Photography Techniques (ISO, Shutter Speed, Aperture, White Balance, etc)
– Extensive Location Scouting and Tips for better composition, angles, and vantage points
– Advanced Panoramic Photography Shooting and Stitching
– Blending Moments in Time with Multi level Panos
– Solid Neutral Density Filters and Softening Skies and Water
– How to Use Smart Phone Apps to Precisely Plan Your Night and Astro-Photography
– Capturing Stars and Star Trails While Using Tilt Shift Lenses
– Understanding and Mastering Light (Golden Hour, Blue Hour, Sunrise and Sunset, and Astro)
Extensive and Seamless Focus Stacking and Focus Bracketing
– Perspective Blending and Combining Various Focal Lengths
– Time Blending (combining exposures shot at different times)
– Bracketing and Multiple Exposure Blending
– 100% Manual Exposure Blending using Zero HDR Software
– Blending Different Moments in Time Together (Blending Different Times of Day Seamlessly)
– Non-Destructive Techniques to Master RAW Processing
– Extensive Non-Destructive Color Correction and Image Adjustment
– Complex Selections and Masking Techniques
– How to Create and Work With Luminosity Masking Techniques
– Advanced Luminosity Masking
– Compound Channel Masking for Precision Selections and Color Corrections
– Advanced Object Removal and Image Cleanup
– How to Replace Skies and Add Depth and Drama to Existing Ones
– Precision Sharpening and Selective Noise Reduction
– Blending Moments In Time To Reveal Mountains Covered by Fog
HOmepage:
https://fstoppers.com/product/photographing-world-4-advanced-landscapes
Screenshots